Art+LAW
Meet the winners of the Pro Bono Awards
Each year Arts Law recognises its nationwide panel of volunteer lawyers by awarding 29 commissioned prints to the volunteers who have made a substantial contribution in the previous year.
The commitment of these lawyers who selflessly donate their time enables artists and arts organisations to be assisted through the document review service, offsite telephone advice and ongoing casework. Without their ongoing support, Arts Law would not be able to deliver its mission of empowering the arts community to understand their legal rights and have sufficient business and legal skills to achieve financial security.
Meet some of the winners of the award below and read about their involvement in volunteering for Arts Law.
If you're interested in supporting the creative industries by joining the panel of volunteer lawyers, you can find further information here or by contacting artslaw@artslaw.com.au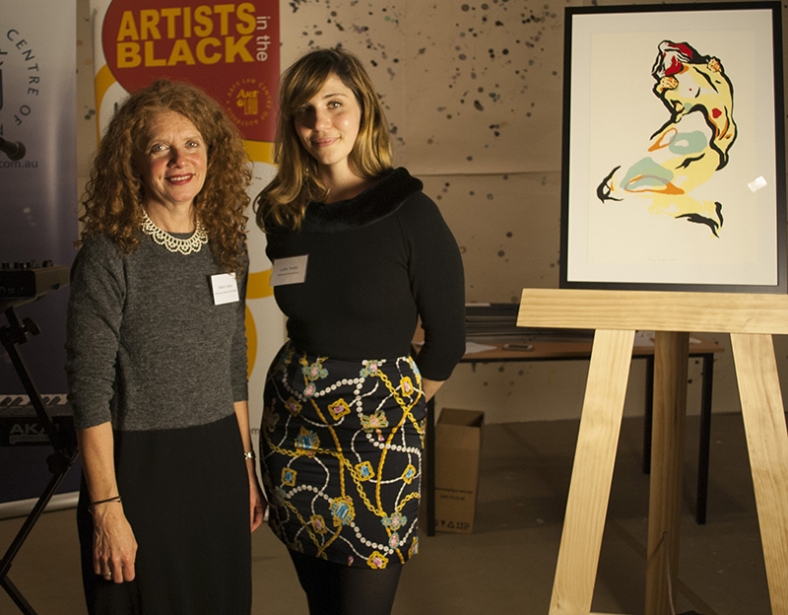 Robyn Ayres, Executive Director of the Arts Law Centre of Australia, with artist Lotte Smith. Photo by Devris Hasan © Devris Hasan
Claudia Adams, Solicitor, Herbert Smith Freehills
"I think one of the greatest benefits is the chance to make the law accessible to the Arts Law clients we assist. For so many people I think the law is a completely foreign language and seems cumbersome and too complicated and intimidating to be of practical value. Through Arts Law we have a chance to give 'on the ground' advice about next steps a client may take and sources of good quality information available to them. Demystifying the law is incredibly satisfying and on the occasions when we have been able to provide really useful advice, hearing the frustration and stress begin to lift from the voice of an Arts Law client is a great thing."
Chris Chow, Managing Director, Chris Chow Creative Lawyers
"The support Arts Law continues to offer to members of the creative community is nothing short of incredible. The passion and dedication of the Arts Law team is genuinely inspirational, and it's precisely that passion and dedication which keeps me interested in supporting the Arts Law team and the creative community by volunteering on the panel of lawyers. Also, as Chair of the Communications, Entertainment and Technology Law Committee of NSW Young Lawyers, I think it important to lead by example, and donating my time on the Arts Law panel of volunteer lawyers is a good way for me to do that."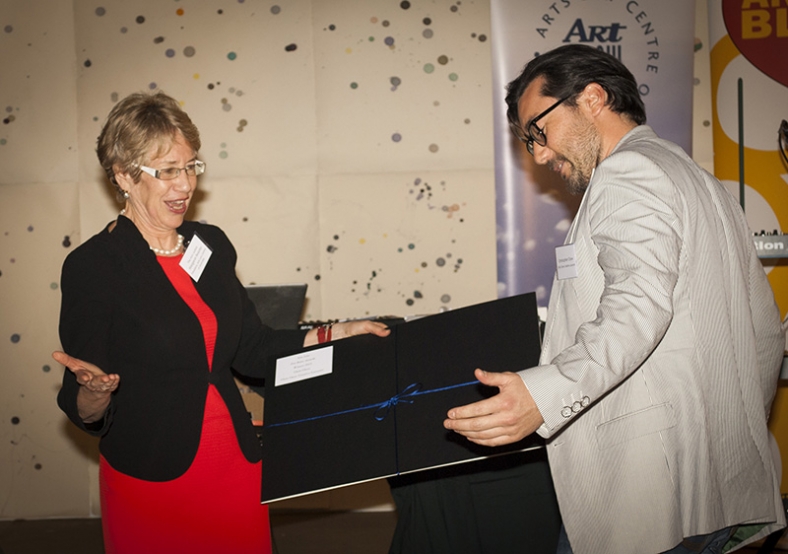 Arts Law President, The Hon Justice Margaret Beazley AO and Chris Chow (Chris Chow Creative Lawyers) photo by Devris Hasan © Devris Hasan
Tracey Wren, General Counsel, Orica International
"I love meeting the Arts Law artists and hearing their stories. Their passion for the work inspires me and their vulnerability in the commercial world reminds me of why I became a lawyer in the first place. Volunteering for Arts Law allows me to meet incredibly talented and inspiring individuals and to connect with myself. I have laughed and cried with clients along the way. It feels great to share a small part of the journey with them and to have contributed something positive along the way."
Jonathan Adamopoulos, Senior Associate, Allens
"I have enjoyed the opportunity of working with artists who are pursuing a range of creative endeavours and assisting them with their legal matters. The issues we deal with are quite diverse. Some of them are areas which remain untested in law and others require a pragmatic solution to an otherwise complex problem."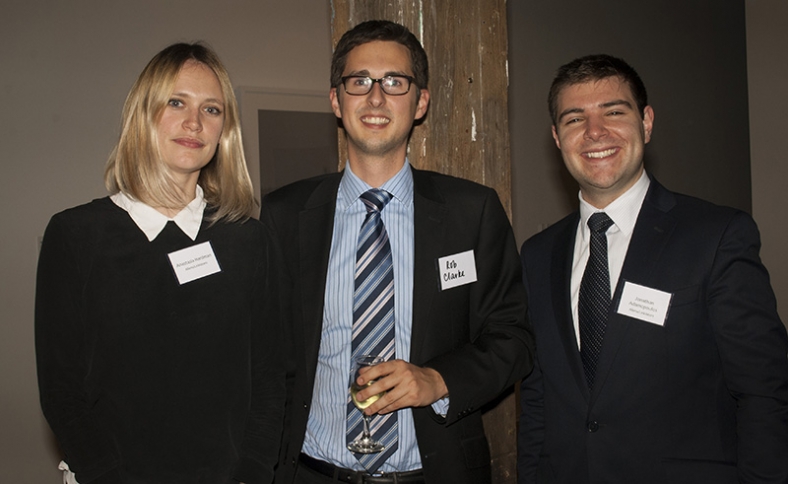 Anastasia Hardman (Allens), Rob Clark (Tenth Floor Chambers, previously at Allens in 2013) and Jonathan Adamopolous (Allens) photo by Devris Hasan © Devris Hasan
Katherine Giles, Senior Lawyer, ABC
"I used to work at Arts Law, and it wasn't an easy decision to leave and take up a position at the ABC, so I decided to join the Arts Law panel of volunteer lawyers so that I could keep assisting Arts Law. I also know how hard all the Arts Law staff work, and how much it means when a volunteer lawyer offers to assist an Arts Law subscriber who needs advice. As volunteers we may feel like we provide advice only a handful of times each year, but as a combined force the volunteer lawyers panel pack a punch. So much of being an artist gets caught up in the cogs of contract law and intellectual property law, and not all artists will be able to afford the hourly rate charged by a lawyer. I hope that the small part that I play when I provide advice as an Arts Law volunteer lawyer assists an artist with dealing with the legal issues that they face, and then they can concentrate on being creative!"
Melissa Goode, Senior Associate, Herbert Smith Freehills
"It is very rewarding to be able to assist artists directly with the legal issues they face in connection with their work. I often find that these issues distract them from their real task of working on their art. One of the greatest benefits I see in providing artists with advice is that it helps them solve that particular problem and, perhaps most importantly, it gives them some knowledge to be able to better protect themselves and their art in the future. I think it is so important to help arm artists with an awareness of their rights."
Marcus Walkom, Solicitor, Media Arts Lawyers
"The creative industries inextricably enrich our lives every day and it is important that we continue to assist and support artists in an ever-changing and at times complex area of law. The Arts Law Centre of Australia is a pivotal supporter to all creative industries Australia wide and it is essential that those of us working within the industry make the time and effort to give back to the artist community at all levels to encourage ongoing creativity and achievement. Thanks to Arts Law for another fulfilling year of volunteering."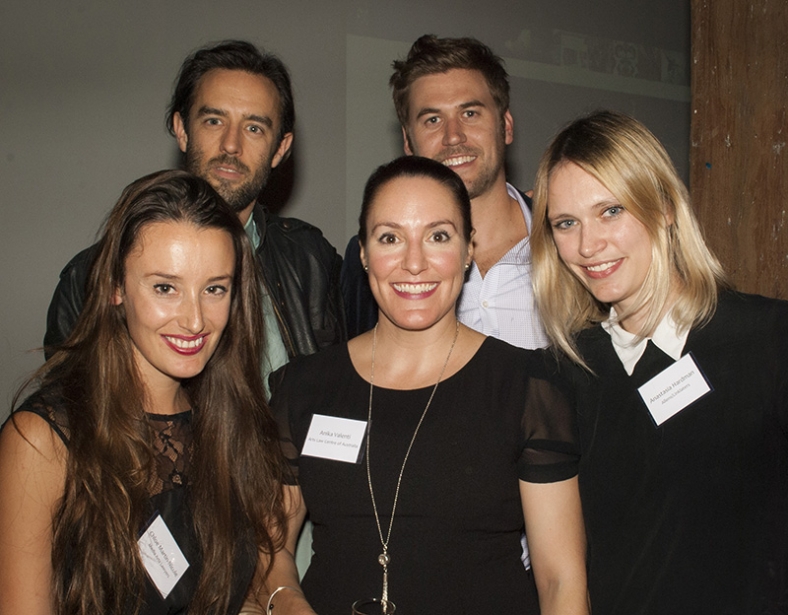 Back L-R Julian Hewitt (Media Arts Lawyers), Marcus Walcom (Media Arts Lawyers), Front L-R Chloe Martin-Nicole (Media Arts Lawyers), Anika Valenti (Arts Law Centre of Australia)and Anastasia Hardman (Allens) photo by Devris Hasan © Devris Hasan
Mandy van den Elshout, Senior Lawyer, ABC
"I have really enjoyed working with the many and varied clients that Arts Law assist. You may be advising a writer heading to the outback to interview indigenous artists or a film maker making a satirical film involving challenging copyright and defamation issues! The introduction of various new technological rights, the parody and satire fair dealing defence and the uniform defamation laws have all been important when advising Arts Law clients. Arts Law has presented an opportunity to grow personally while supporting its clients!"
John MacPhail, Partner, Finlaysons
"I joined the pro bono panel to help put something back into the community and to help clients from a very diffident group from my usual clients. I've enjoyed really trying to understand clients' concerns by understanding what is important to them and tailoring the advice accordingly. It's been a great experience to reassure a couple of clients and help them get to sleep at night after a problem has been gnawing at them! The greatest benefit of the work I do for Arts Law, apart from the benefit to arts clients and arts community, is having my regular clients be aware that I am not just a narrow-focus corporate and commercial lawyer."
Ben Kay, Partner, Kay & Hughes Arts and Entertainment Lawyers
"Affordable access to legal assistance is incredibly important, and the Arts Law Centre performs a fundamental role in providing that advice the Australian arts and entertainment industries. Half an hour of professional advice can make a substantial difference to a client's bargaining position in contractual negotiations, and for that reason alone, I believe that the service the Arts Law Centre offers directly helps prevent avoidable disputes throughout the industry. It performs a key role in representing the more vulnerable members of the creative community, and Kay & Hughes' volunteer work for them is both a welcome duty and a pleasure."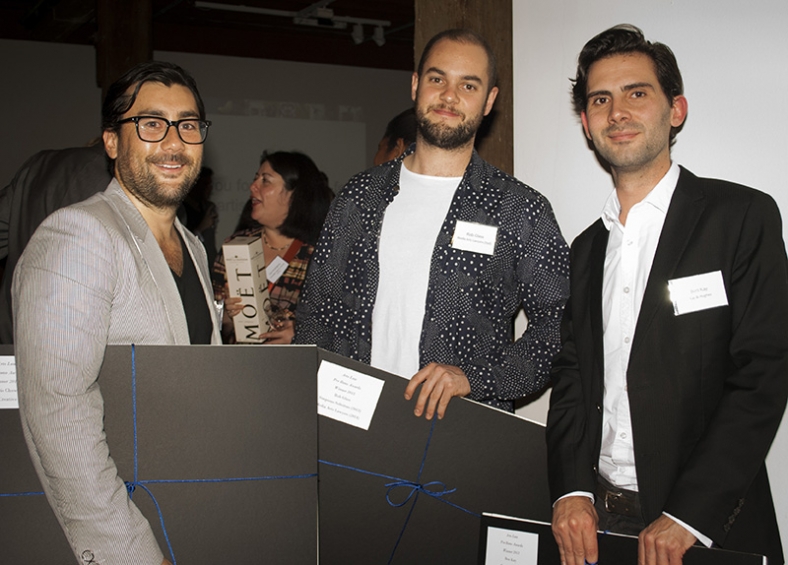 Chris Chow (Chris Chow Creative Lawyers), Rob Glass (Media Arts Lawyers, previously at Simpsons Solicitors in 2013) and Ben Kay (Kay & Hughes) photo by Devris Hasan © Devris Hasan
Mandy Chapman, Legal and Business Affairs Executive, Beyond International Limited
"The work of all of the volunteer lawyers on Arts Law's panel together with the work of Arts Law's dedicated staff is of great benefit to the arts in ensuring that artists' rights are not unfairly exploited, and that arts organisations can perform their important functions with legal certainty."
Julie Robb, Partner, Banki Haddock Fiora
"I wholeheartedly support Arts Law in its work supporting artists, and encouraging good governance and best practice in the arts; and am very happy to contribute to this goal in whatever way I can."
Grant McAvaney, Senior Lawyer, ABC
"There are two 'constants' when it comes to assisting ArtsLaw members:
Firstly, all of those I have assisted have shown themselves to be humble and worthy of assistance notwithstanding their incredible talents.
But moreover, they are always incredibly grateful for the time given to them.
As such, I have always found assisting those working in the arts and creative fields – all of whom are so stretched for resources and assistance despite the immense positive impact they have on the Australian culture – incredibly rewarding. Selfishly, this also allows me to live vicariously through the talents of others..."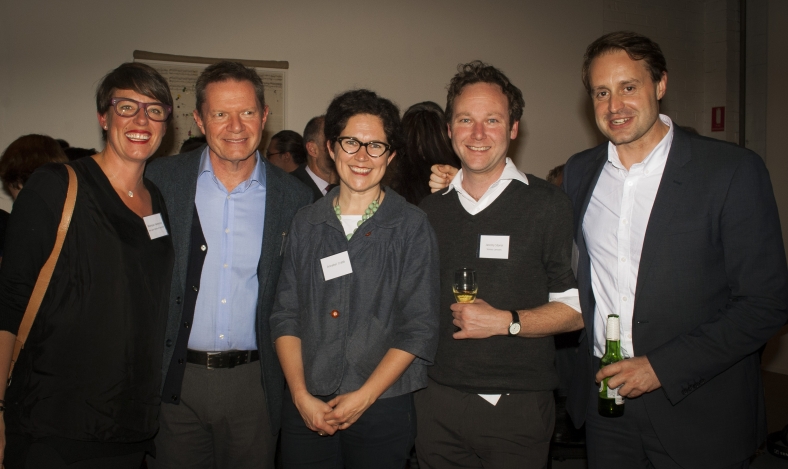 Monique Hennessy (Arts Law Volunteer Lawyer), Paul Leadon, Annabel Crabb, Jeremy Storer (Storers Legal) and Grant McAvaney (ABC)
Monique Hennessy, Volunteer Lawyer, Arts Law Centre of Australia
"I decided to join Arts Law because during my long career in film and TV and I realised that there are very few places to go to get real advice and understanding about some of the issues that only really apply to our unique industry. Arts Law can provide that guidance to allow individuals to enjoy their creative exploits in a more informed way. One of my favourite experiences at Arts Law has been working towards the development of a Mediation initiative for use in Media, Entertainment and Communications sectors. Disputes are inevitable however if they can be resolved with speed and pragmatism there is a chance to save creative relationships from irreparable damage. I am really proud to be associated with Arts Law. They are a great organisation full of talented individuals who just want to help people do what they love doing."

Rob Clark, Barrister, Tenth Floor Chambers (formerly at Allens in 2013)
"Arts Law gives me the opportunity to use my legal skills and knowledge in a very practical and helpful manner. The legal problems presented to me have tended to be relatively straight-forward, so it is usually not a difficult exercise for me to advise people of their rights. However, from the point of view of the person getting the advice, knowing their rights, and hearing it from a lawyer, can be an empowering experience. In short, what seems like a small thing for me can sometime be extremely helpful for someone else."
Chris Govey, Senior Associate, Allens
"It is a real pleasure volunteering for Arts Law. I most enjoy using my specialist intellectual property law knowledge to assist artists to pursue and focus on their own specialisation – Art!"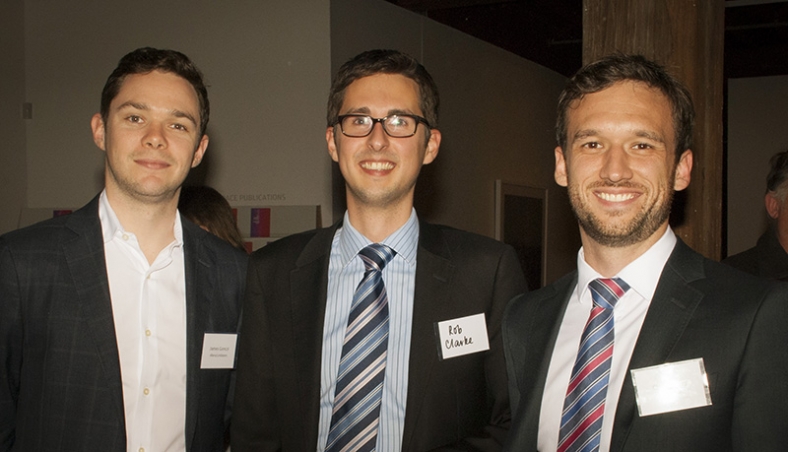 James Gonczi (Allens),Rob Clark (Tenth Floor Chambers, previously at Allens in 2013) and Chris Govey (Allens) photo by Devris Hasan © Devris Hasan
Useful links