Arts Law celebrates extraordinary pro bono contributions to Australia's arts communities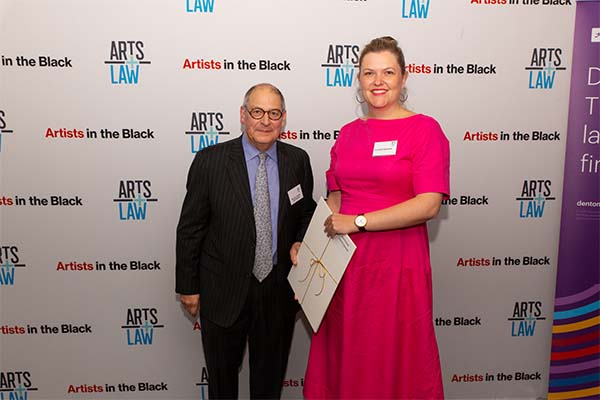 On the 30th of April 2019, lawyers from across Australia were honoured for their contribution to the Australian arts community at Arts Law Centre of Australia's (Arts Law) annual pro bono awards.
30 solicitors, three law firms and one administrative professional were selected for their contribution to Arts Law and the arts community during 2018.
The winners have been involved with Arts Law in different ways. These ranged from providing legal advice and document reviews, taking on ongoing casework to travelling on Artists in the Black outreach trips to support Aboriginal and Torres Strait Islander artists in remote communities around the country.
Arts Law CEO, Robyn Ayres, said the recipients of the awards were chosen due to their outstanding contribution to Arts Law and the wider arts community.
"Australia's creators are the soul of our country. They tell our stories through writing, music, dance, film, visual arts, and other creative art forms which enrich us all."
"Last night was a chance to celebrate the part that lawyers, law firms and other professionals play in helping to deliver our services on a very slim budget."
Winning the Arts Law Community Pro Bono Award was Solicitor, Nicholas Linke from South Australian law firm Fisher Jeffries. This award was open for nominations by individuals or organisations who wished to nominate a solicitor who went above and beyond in their assistance to the arts community.
Nominated twice, Nicholas' nominees spoke of his commitment to the South Australian arts community, his voluntary work and his generous assistance with pro bono legal advice to different artists and arts organisations.
"The cadre of winners was exceptional and each one of them played an instrumental role in fulfilling the services that Arts Law provides to Australian artists," said Robyn.
The winners were law firms Allens, King and Wood Mallesons and Holding Redlich. Solicitors, Richard Potter of 153 Phillip Chambers, Dauid R Sibtain of 4 St James Chambers, Mandy van den Elshout of ABC, Rachel Chua of Australian Government Solicitor, Shariqa Mestroni of Bird and Bird, Mandy Chapman of CJZ, Michael Tucak of Creative Legal, Delwyn Everard of Everard Advisory, Derek Baigent of Griffith Hack, Eli Fisher of HWL Ebsworth, Elizabeth Burrows of Influence Legal. Ben Kay, Ruthanna Klawansky and Tom Lynch of Kay and Hughes, Luke Hawthorne of King & Wood Mallesons, Julian Hewitt and Yasmin Naghavi of Media Arts Lawyers, Michael Easton of Michael Easton Legal, Katherine Giles of MinterEllison, Darren Sanicki and Moira McKenzie of Sanicki Lawyers, Lucinda Edwards of SBS, Ian McDonald, Jules Munro and Seb Tonkin of Simpsons, Damian Rinaldi of Sonic Lawyers and Sole Practitioners Kelvin O'Keefe, Lisa Archbold and Megan West alongside Garey Campbell for his administrative support for Arts Law
For further information about this story contact Robyn Ayres, CEO of Arts Law on [email protected].