Arts Law to hold Fundraising Raffle, April 2019
Arts Law is holding a raffle to raise funds for Arts Law and Artists in the Black's services within the arts community.
With stunning works from artists Danie Mellor, Bronwyn Bancroft and Trevor Richards, tickets for the raffle will be on sale from April 1st until April 30. The winners will be drawn at the Pro Bono Awards night, April 30 at the conclusion of the event at Dentons Law Firm in Sydney
First place artwork is 'Symphony (requiem) 2016' by Danie Mellor valued at $14,000, second place is artwork 'Earth, Wind, Fire and Water' by Bronwyn Bancroft valued at $1,800, and third place 'Untitled 4 (Salt Shed Series)' by Trevor Richards valued at $900.
FIRST PLACE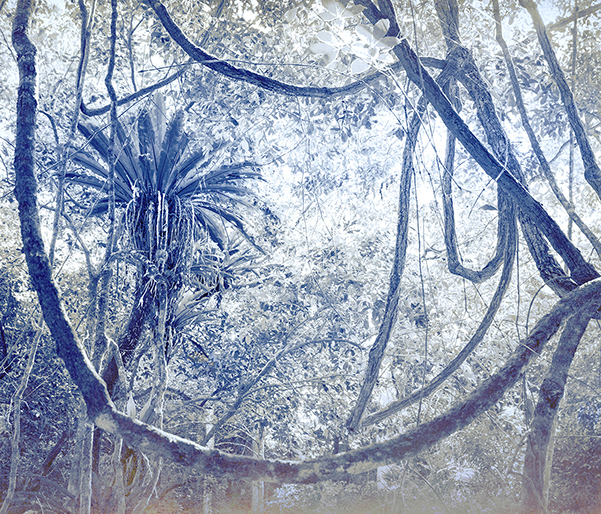 (c) Danie Mellor
 'Symphony (requiem) 2016' by Danie Mellor 
Chromogenic print on metallic photographic paper
Edition number: 1/3
120.0 x 140.0 cm
Value: $14,000
The work
This photographic work by Danie Mellor explores the sensuality of landscape and nature. The rainforest holds a particular fascination for the artist, with its complex ecology a potent metaphor for the ongoing cycles of life we experience. It is a dynamic environment for the exploration of the Aboriginal and Australian landspace, with a rich cultural and historical backdrop that reveals the beauty of our country.
The Artist
Danie Mellor is a contemporary artist whose work explores themes that are critically linked to cultural histories and concepts of the landscape. His multi-award winning work is shown internationally and within Australia, and is held in the permanent collections of major institutions and private collectors.
Danie's works are held in the collections of the National Gallery of Australia, QAGOMA, University of Queensland Art Museum, Cairns Art Gallery, Shepparton Art gallery, and Museum of Brisbane.
SECOND PLACE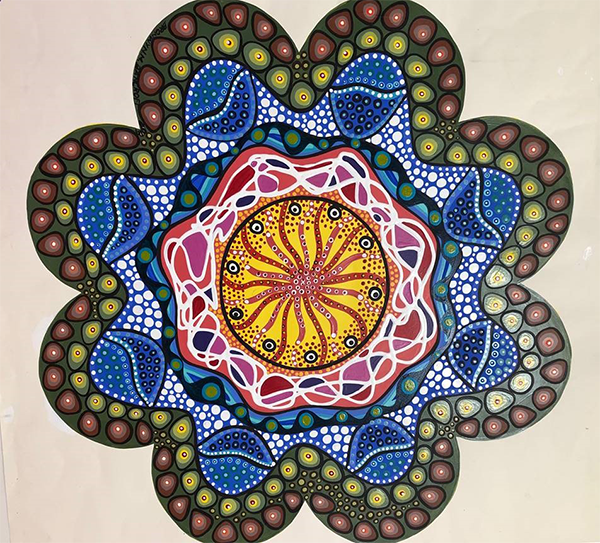 (C) Bronwyn Brancroft]
"Earth, Wind, Fire and Water" by Bronwyn Bancroft
Limited Edition Print on German rag paper. Edition 2 of 20.
70 X 70 cm
Value: $1,800.
The work
The inspiration is nature and my artistic acknowledgement of the force of Mother Earth and her abundance. To be cherished! Not trashed!
Completed in 2019 in Bundjalung Country.
The Artist
Bronwyn Bancroft is a proud Bundjalung Woman and Artist. Bronwyn has been exhibiting nationally and internationally for over 3 decades.
Bronwyn has illustrated and/or written 40 children's books.
Bronwyn has been a Director of her own company, Designer Aboriginals Pty Ltd since 1985.
Bronwyn holds positions in the following organisations, Arts Law (Director), Australian Indigenous Mentoring Experience (Director) and Commonwealth Bank Indigenous Advisory Council. Bronwyn has been a volunteer senior strategist at Boomalli Aboriginal Artists Co-operative since 2009.
THIRD PLACE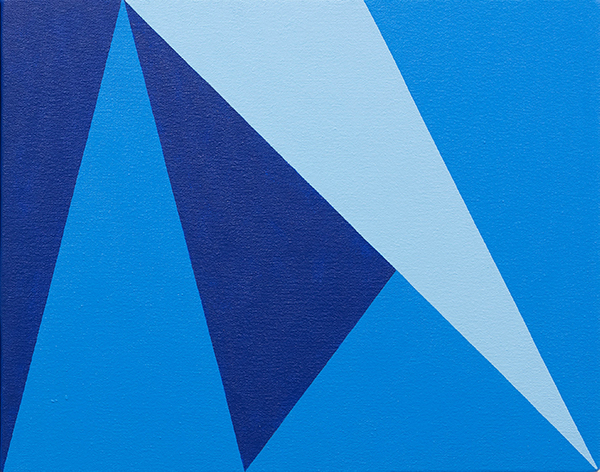 (c) Trevor Richards
Untitled 4 (Salt Shed Series)
Acrylic on canvas
38 x 49 cm
Value: $900
The work
"The painting is part of a series which are directly inspired by his chance encounter with The Salt Shed in Manhattan. This new building houses salt rock used to deal with snowy streets, and its facade has been described as looking like "a modern art painting come to life, all angles and edges." His new paintings continue to incorporate geometric shafts of colour that, especially in the more monochromatic works, imply a three-dimensional surface, with the dark areas emulating shadow and the light becoming surfaces that appear to lean out towards the viewer." from an essay by Andrew Gaynor, 21018
The Artist
Fremantle based artist Trevor Richards' studio practice includes hard-edge abstract paintings and three-dimensional wall-mounted works that explore bold colour, geometric shape and pattern. He draws on a wide range of historic and contemporary sources, including Islamic and mosaic tile patterning, architectural modelling, tessellations. He combines all within a minimalist, concrete art aesthetic which reflects an interest in the play of built structures in everyday life. He has adapted his studio practice into public and gallery spaces, incorporating floors, walls, windows and roads as surfaces on which to apply pattern and colour.
This is a great opportunity to own a stunning artwork created by renowned artists while also helping Arts Law continue to advocate for and provide legal assistance to artists around the country.
Tickets are $50 each or $125 for three tickets and put you in the running to win one of three beautiful hand-picked and ethically sourced artworks.
To buy a ticket click here