Arts Law Volunteer and Partnership Nominated in the 2017 Justice Awards
Our partnership with Colin Biggers & Paisley and Arts Law volunteer Tom Lynch have been nominated in two categories at the Law and Justice Foundation of NSW 2017 Justice Awards.
Tom has been nominated for the Community Legal Centres NSW Award for his great work as Chair of our fundraising committe, Hearts for Arts Law. Tom began volunteering with Arts Law in 2015 as a student volunteer in our Sydney office, supporting our clients and legal staff. He then joined Hearts for Arts Law and was elected to the position of Chair in early 2016. As Chair he has volunteered his time to produce extremely successful fundraising events for Arts Law (including our now annual comedy night Laugh Your Arts Off) and has raised the profile of Arts Law among artists in NSW.
We are very grateful for Tom's invaluable input as a volunteer at our organisation and for his commitment to improving access to justice for artists.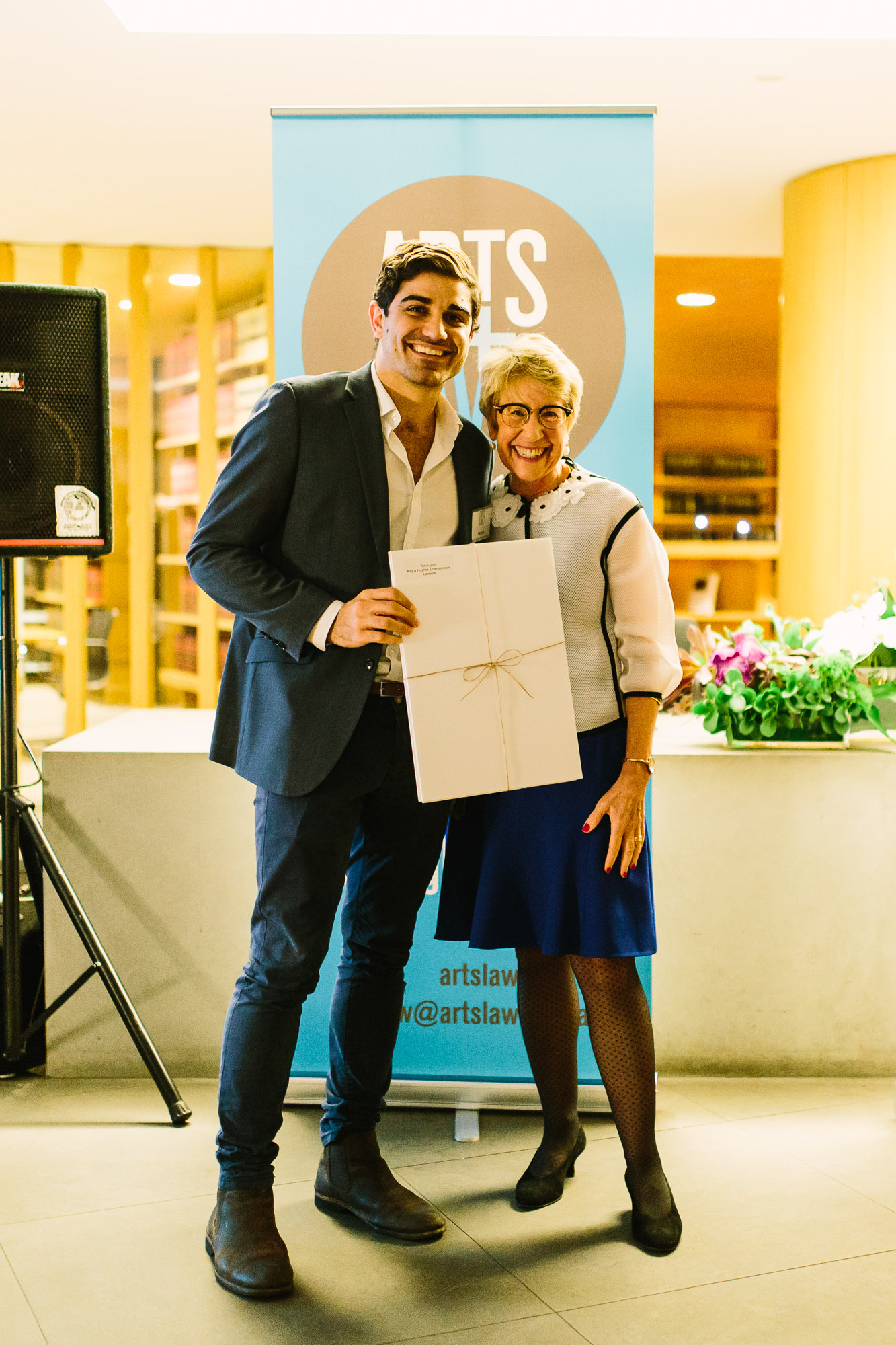 Tom Lynch with Arts Law President Justice Margaret Beazley AO receiving a Pro Bono Award in 2017. Photograph by Jay La Photography.
In addition to Tom's nomination, our partnership with law firm Colin Biggers & Paisley has also been recognised in a nomination for the Pro Bono Partnership Award. The partnership has been extremely beneficial to Arts Law, both through their pro bono support of clients, particularly Aboriginal and Torres Strait Islander artists, and their fundraising efforts. Colin Biggers & Paisley always acts as a champion for Arts Law and our Artists in the Black service. They amplify our voice and impact where we may not have the resources to do so ourselves.
The team from Colin Biggers and Paisley on their fundraising trek for Artists in the Black in August 2017.
With the funds raised Arts Law was able to recruit an additional lawyer to join the small team
We are very grateful for these relationships to be acknowledged through these nominations in the 2017 Justice Awards. Congratulations to all the nominees who do fantastic work for NSW. Winners will be announced at the Justice Awards on Thursday 19 October 2017 You can see the full list of nominees here.