Darwin Aboriginal Art Fair 2017 Wrap Up from AITB Coordinator Bibi Barba
By Artists in the Black Coordinator Bibi Barba
The Darwin Aboriginal Art Fair kicked off with a Welcome to Country from the Larrakia Nation. Arts Law conducted advice clinics around contracts and wills. It was a fantastic opportunity to introduce myself as the new AITB coordinator and program to the art centres. The Indigenous Art Code presented a "Fake Art Harms Culture" interactive display that explained to visitors how they can ethically purchase Aboriginal and Torres Strait Islander art.
We had great time talking to the various artists and listening to their stories about their incredible artworks with lots of cultural exchange between art centres. It was a great opportunity to purchase amazing works and to be totally immersed in the Darwin Aboriginal cultural experience with performances from Red Flag Dancers from Numbulwar Arnhem Land and Our Mob Different Country dancers from the Darwin Correctional Centre. It was quite emotional for families members who were present at the fair to see their loved ones perform.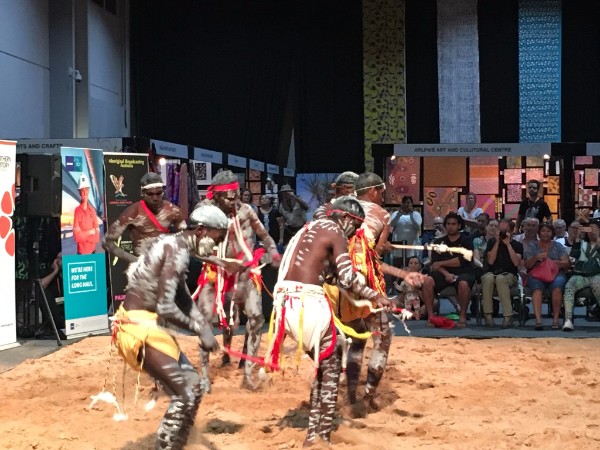 Our Mob Different Country Dancers from the Darwin Correctional Centre
The National Aboriginal and Torres Strait Islander Art Awards held in Darwin while we were there had 300 entries and 65 finalists. The winner of the Telstra Art Award in 2017 was Kulata Tjuta – Wati kulunypa tjukurpa (Many spears – Young fella story) by Anwar Young, Unrupa Rhonda Dick and Frank Young (pictured). 'Young Indigenous Australians need to stand behind culture and not behind bars'.
While at the stall at the Art Fair, we met a fabulous and energetic artist, Glen Farmer, who is also an arts worker from Jilamara Arts on Milikapiti, Melville Island, in the Tiwi Islands (pictured with Roxanne and Bibi above). He shared with us an incredible story about being lost for 'four days in Paris' – you can read all about his experience! While it sounds terrifying, Glen was smiling and laughing the whole time while sharing the story. His positivity and good humour was contagious and he had us in stitches every time he visited us.
We attended the National Indigenous Music Awards and watched some wonderful performances by some emerging and established Indigenous artists. Our favourite performance was by new up and comers Electric Fields and established singer/songwriter Leah Flanagan. The ceremony also provided a timely opportunity for the music community to celebrate the life and music of the late Dr G Yunipingu.
It was a great time for the arts to be showcased in Darwin with many events running alongside the Darwin Aboriginal Art Fair, including the awards ceremonies. Darwin Festival was also underway and we paid a visit to the Festival Hub which was bursting with energy.