2018 Fundraising Raffle
Arts Law held a raffle to raise funds for Arts Law and our Artists in the Black service which supports Aboriginal and Torres Strait Islander artists. The winners, listed below, were drawn on Tuesday 17 April at our 2018 Pro Bono Awards hosted by Dentons. Congratulations to the winners—we hope you enjoy the beautiful artworks.
Thank you to everyone who entered the raffle. Your support allows us to continue to advocate for and provide legal assistance to artists across the country.
First Prize – Won by Arthur Moses (Ticket No. 473)
We're excited to announce that our first prize is a never-before-seen etching from the talented Ben Quilty.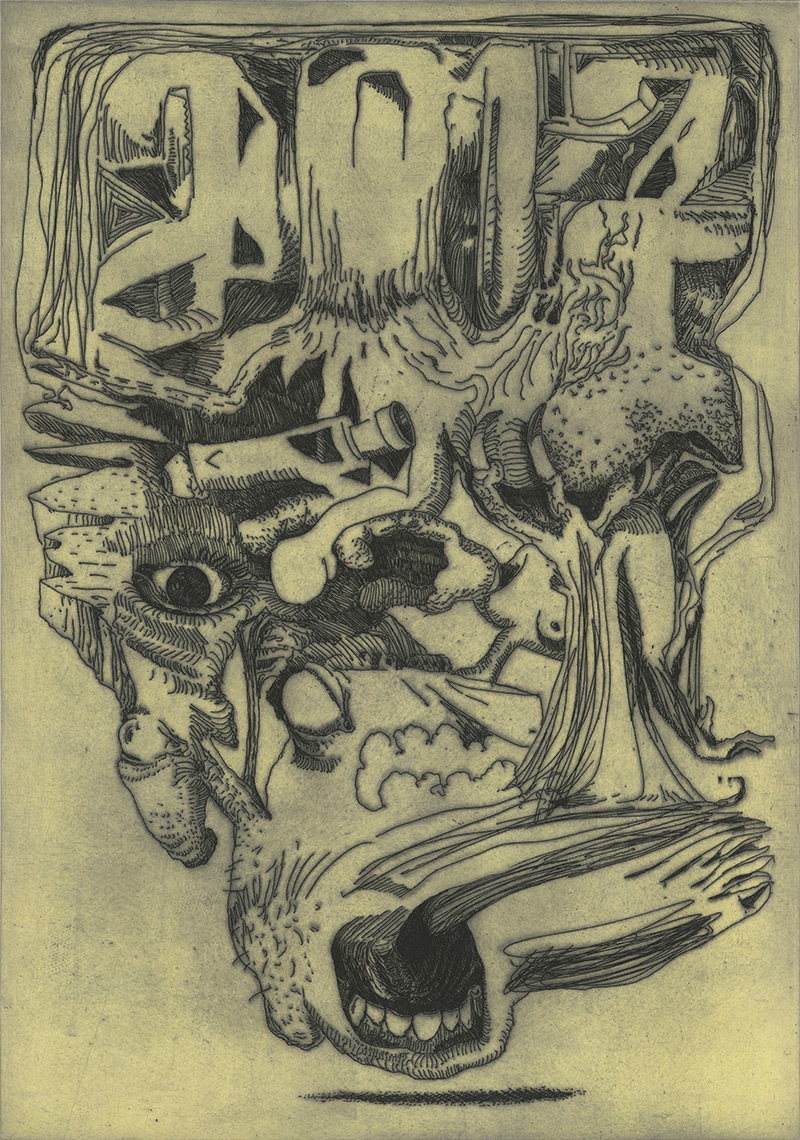 The Chaos of Men by Ben Quilty
Etching on 100% cotton rag paper
Valued at $8,000
Limited Edition (11/20)
76 x 57 cm
'Trump tweets, North Korean missile launches, global terrorism, vengeful weather, disruptive economies and Middle East instability: it feels like the rug has been pulled from under us. How do we respond to a world upside down, a place of crumbling sureties? Ben Quilty's new work expresses the uneasiness of a society anxious about the future through the lens of personal experience.
The artist says he is responding to this topsy-turvy moment:
"Making art that flirts with insanity might just start to explore notions of the world's political framework. The success of a narcissistic ego maniac like Donald Trump needs to be met with a level of unhinged surrealism, don't you think?"'
Click here to read the full essay by Michael Desmond.
Second Prize – Won by Dennis Wilson (Ticket No. 467)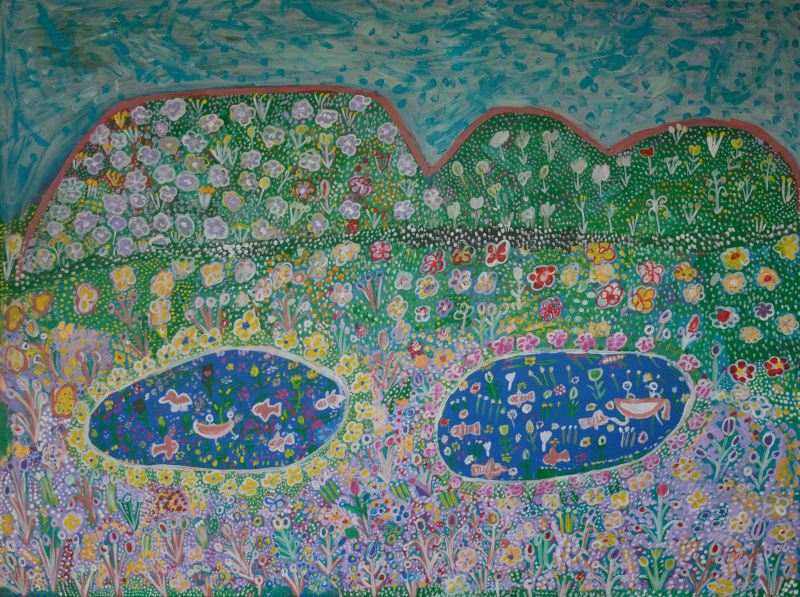 Blue Billabong by Gwenneth Blitner
Painting
Valued at $2,800
90 x 120 cm
'This is my mother's country. I use to go fishing and camping here with my father and mother when I was little.'
Gwenneth Blitner has lived in Ngukurr her whole life. She was born in the old Roper River Mission and was educated at the bush school. She learned painting from her brothers Glen and Donald Blitner and she now paints every day.
In bright, bold strokes, Gwenneth paints the landscape of Ngukurr, especially flowers and hills. Gwenneth often closes her eyes before she begins a painting. She says, 'I like to think about this place and paint more.'

Third Prize – Won by Kon Stellios (Ticket No. 482)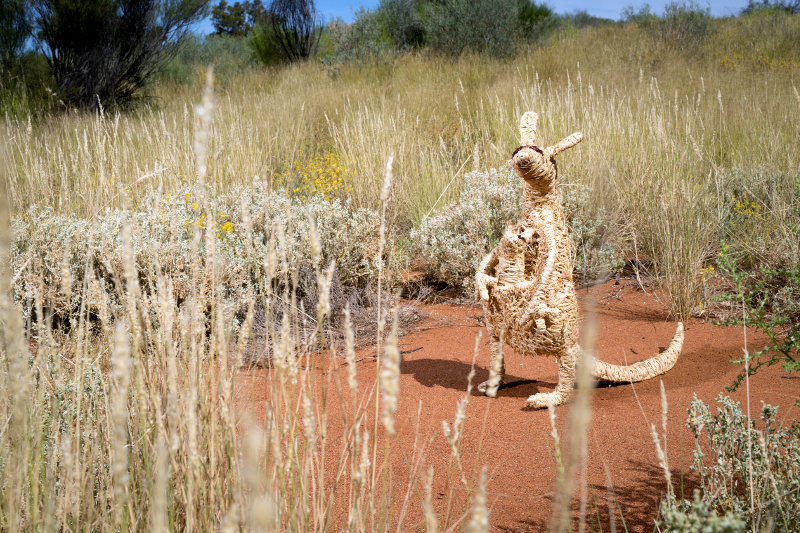 Malu and Joey by Katrina Tjitayi
Sculpture made from 'tjanpi' (wild harvested grass)
Valued at $800
55 x 22 x 55 cm
Katrina's use of natural raffia makes this Mother Rock Wallaby, both wild and sweet. Twinkling eyes look around the bush for some tucker as her little joey peaks out from the pouch.
Tjanpi (meaning 'grass') evolved from a series of basket weaving workshops held on remote communities in the Western Desert by the Ngaanyatjarra Pitjantjatjara Yankunytjatjara Women's Council in 1995. Tjanpi sculptures were first produced in 1998 when Kantjupayi Benson, from Papulankutja, added a handle to a basket and made a grass 'pannikin' (metal cup) followed by a set of camp crockery and a number of dogs.
Anangu women of the Central and Western Desert have for a very long time worked with natural fibres to create items such as bush sandals (wipiya tjina), pouches (yakutja), hair-string skirts (mawulyarri), and headrings (manguri) for daily and ceremonial use. Adding a contemporary spin to the traditional, women now create baskets, vessels and an astonishing array of vibrant sculptures from locally collected desert grasses bound with string, wool or raffia and often incorporating feathers, seeds and found materials.

NOTE: Winners are responsible for picking up their prize from the Arts Law Office at The Gunnery, 43–51 Cowper Wharf Roadway, Woolloomooloo NSW 2011.