Arts Law Fundraising Raffle June 2016
Winners Announced!
First Prize won by Philip Greenwood SC, Eleven Wentworth
Second Prize won by Alec Leopold SC, Eleven Wentworth
Third Prize won by Campbell Hudsnon, Gadens
Arts Law is holding a raffle to raise funds for Arts Law, in particular our Artists in the Black program which supports Aboriginal and Torres Strait Islander creators. Raffle tickets are $100 to enter, and put you in the running to win one of three beautiful, ethically sourced artworks. The winners will be announced on 2 June 2016. Our first place artwork is valued at $5000, our second place artwork is $2500 and third place is $1100. This is an great opportunity to own a stunning artwork created by renowned artists while also helping our Artists in the Black program continue to advocate for and provide legal assistance to artists around the country, especially in regional and remote parts of Australia. You can read more about the ways Arts Law helps artists here. Only 200 tickets are available so buy yours and enter to win today!
First Prize
Minyi Puru by Jakayu Biljabu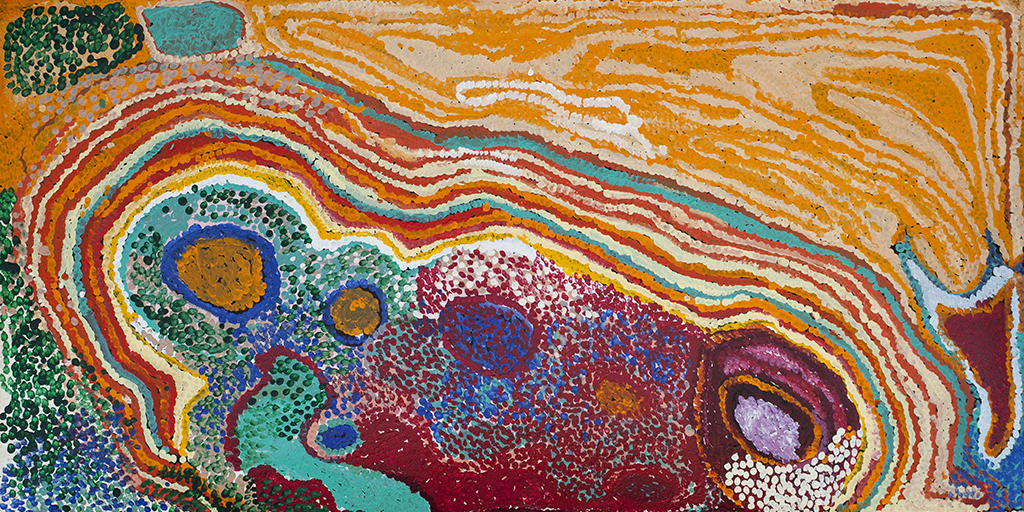 76 x 152cm: Acrylic on Canvas
First Prize won by Philip Greenwood SC, Eleven Wentworth
This painting depicts a part of the Minyi Puru (Seven Sisters) story. Minyi Puru is an important Jukurrpa (dreamtime) story about seven sisters travelling throughout the desert running away from an old man called Yurla. He chases the wantis (women) all the way from Roebourne on the west coast right through Martu country before flying east. Along the way they stop at a lot of important places to camp, sing, dance and collect bush tucker. There are also many interactions with Yurla when he catches up with them along the way, creating an amazing abundance of stories and meaning with this culturally rich narrative.
Jakayu was born a litlle way north of Pitu around 1937. She grew up around Pitu, Wikirri, Rarrki, Wantili and Nyinyari on the Canning Stock Route. In 1982 she moved to Punmu community. Jakayu has painted primarily in Punmu community, where she has continued to live surrounded by her children and grandchildren, teaching her grandaughters about their history and country. She was a 2015 Finalist, Telstra National Aboriginal & Torres Strait Islander Art Award, a 2015 Finalist, Hedland Art Award, a 2013 Finalist, Hedland Art Award and a 2013 Finalist, Glencore Art Centre Award.

Second Prize
Ghan Train Going to Adelaide by Margaret Boko Nampitjinpa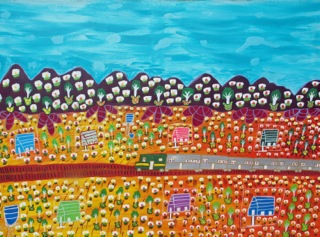 120 x 90 cm: Acrylic on Linen
Second Prize won by Alec Leopold SC, Eleven Wentworth
Margaret Boko Namptijinpa lived at the Inkamala Block near Jay Creek with her family before moving to Alice Springs. Her father's country is Glen Helen Gorge, and her mother was a Walpiri woman from north of central Mt Wedge. Margaret has been an executive board member of Tangetyere Council. When she joined Tangetyere Artists, Margaret developed an increasingly considered style, using a restrained colour palette, as she painted about her Jukurrpa narratives involving women, bush tucker, water and children.

Third Prize
Pupuni Jilamara by Catherine Stassi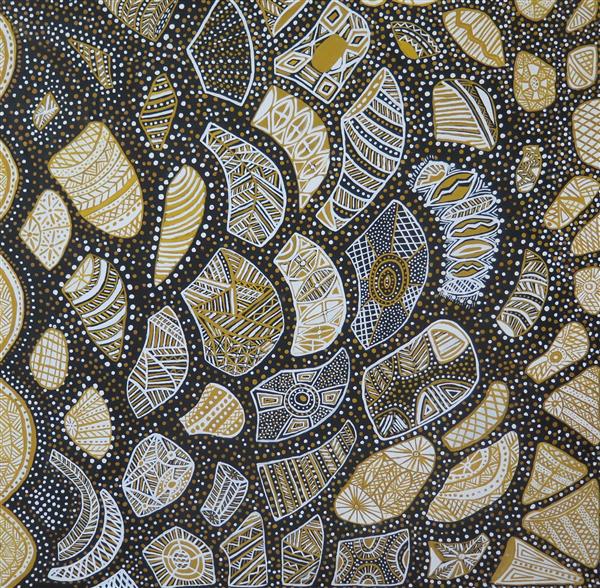 100 x 100 cm: Ochre on Canvas
Third Prize won by Campbell Hudsnon, Gadens
Pupuni Jilamara. During ceremony on the Tiwi Islands a series of 'yoi' (dances), are performed; some are totemic (inherited from the person's Mother) and some serve to act out the narrative of newly composed songs. Participants in these ceremonies are painted with turtiyanginari (the different natural ochre colours) in varying designs, transforming the dancers and, in some cases, providing protection against recognition by mapurtiti (spirits). These designs can be applied in different ways, one of which is using the finger, or in this case a brush. Painting of the face also occurs. These significant artistic designs collectively are called 'Jilamara'.

The raffle will be drawn on 2 June 2016 at the conclusion of the Arts Law Pro Bono Awards. If winners are not present on the night they will be notified by email. Results will be published on our website.