Hearts for Arts Law Stage and the law event successful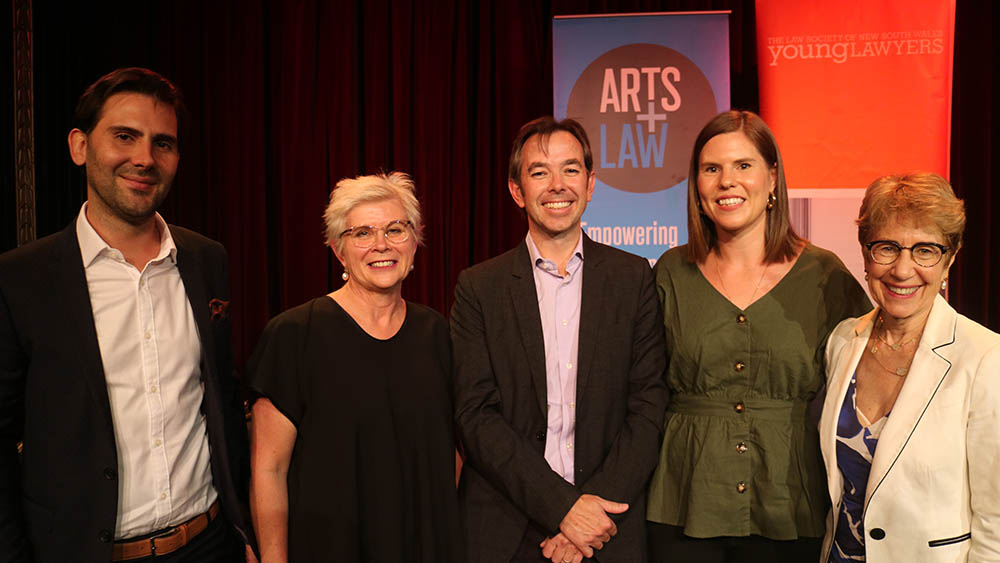 Panelists Ben Kay from Kay & Hughes Entertainment Lawyers, Kerry Comerford from Accessible Arts & Nick Hart from Blueprint Lawyers, Arts Law Solicitor and moderator for the event Roxanne Lorenz along with Arts Law President the Honourable Margaret Beazley, QC AO, Governor-designate.
© Arts Law
Copyright, contracts and the need for passion to work within the arts industry, were just a few of the topics discussed between panellists and audience members when the annual Hearts for Arts Law fundraising event was held last week.
Facilitated by the Arts Law Centre of Australia (Arts Law), Hearts for Arts Law and NSW Young Lawyers Communications Entertainment and Technology (CET) Committee the event was a Q&A panel covering 'Stage and the law'.
With over 100 audience members, panellists led the discussion weighing in on how copyright applies to various art forms, support for the arts in the public and private sector, funding and the importance of understanding your rights when working with contractual agreements.
Accessible Arts CEO, Kerry Comerford, Solicitor-Director for Blueprint Law, Nick Hart, and Partner of Kay and Hughes Entertainment Lawyers, Ben Kay, were headlining the event with Arts Law Solicitor, Roxanne Lorenz, moderating the discussion.
Roxanne said the event was an opportunity for established and aspiring lawyers, as well as industry professionals, to gain a greater understanding of key issues in the sector as well as meet other individuals who share the passion for theatre and on-stage performances.
"Theatre and the law is a specialised field so the opportunity for participants to hear first-hand the issues that arise within those sectors is invaluable. The turn out was great and we were so pleased to hold another successful event."
Opening the event was Arts Law President Honourable Margaret Beazley QC AO, Governor-designate, who spoke of the importance of supporting Arts Law and its work within the arts community.