Making music – your rights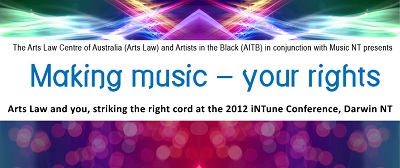 Arts Law and you, striking the right cord at the 2012 iNTune Conference, Darwin NT
Arts Law understands how important your music is to you. From writing
partnerships, band collaboration, vocal leads to mashing wicked samples,
making sure everyone understands their legal rights is vital.
This session will cover:
Copyright the basics: How it works.

Sharing the wealth: The rights of the music writer, lyricist, vocalist and performers.

Making sure everyone is covered: Band agreements – you need them.

Sad songs: Band and collaborative break ups are hard so Arts Law will provide case studies to help you understand your rights and responsibilities.
Artists in the Black (AITB) highlight:
Deadly music: How AITB works with Indigenous musicians to inform them of their rights.
Details
Seminar: Making music – your rights part of the 2012 iNTune Conference
Date: Saturday 11 August 2012
Time: 11:30am
Venue: Vibe Medina Hotel & Conference Centre
Darwin Waterfront, Darwin, 0801, Australia
For full iNTune Conference program and online registration please visit:
www.intunedarwin2012.eventbrite.com
Presenter
Delwyn J Everard,
Senior Solicitor, Arts Law
Delwyn Everard is a Senior Solicitor at the Arts Law Centre of Australia and a trained mediator. Delwyn has over 20 years' experience working for law firms in the US and Australia and in the public sector. She has a Masters degree in law from Columbia University in New York where her studies focused on human rights and artists' moral rights. A former principal of boutique Sydney IP law firm Spruson & Ferguson Lawyers, she has an extensive background in copyright and
trademark litigation.
Delwyn is passionate about equipping artists with the skills and knowledge to understand their rights and negotiate a fair reward for their creative endeavors. As part of Arts Law's specialised indigenous advocacy and advice service Artists in the Black, Delwyn has facilitated education programs to increase awareness and understanding of Indigenous arts law issues, advocated for the introduction of laws recognizing a collective right of Indigenous cultural heritage, and assisted Indigenous artists in remote and regional areas of Australia to write wills. She has advised many musicians and music festival organisers, including the bands and performers participating in Bush Bands Business and Desert Divas in 2011.