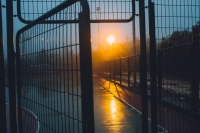 Recognising Artists in prison: a review of the law and policy in Australia* (Position Paper)
In this paper, Arts Law outlines the different legislative and policy positions between the states in an attempt to educate and foster change. Prisoners have rights too.
About Artists' Rights in Prison
Arts Law has advocated for the rights of artists in prison in the context of their advocacy work on copyright and moral rights. Arts Law has supported artists who are prisoners to assert their copyright and moral works for art work produced during their incarceration. Arts Law has also lobbied for the reform of Western Australian State laws which require some prisoners to forfeit their rights to their copyright and artwork. Arts Law operates education workshops for prisoners and campaigns for the rights of prisoners to sell artworks created in prison and for fair compensation where artworks are exhibited or reproduced by prison authorities.