Thank You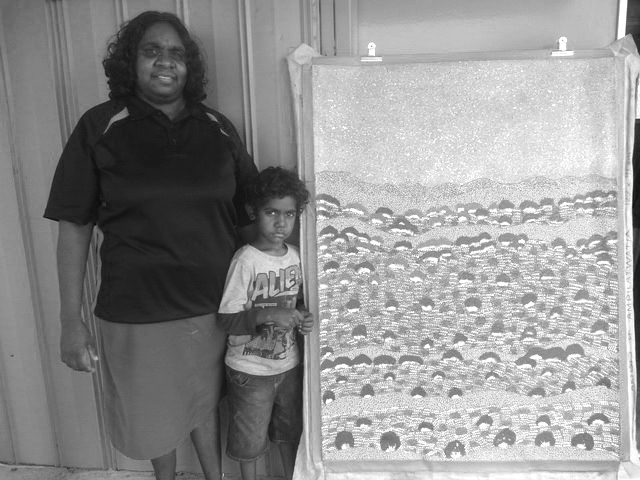 Arts Law helped the Artists of Ampilatwatja to recover money and paintings from a London gallery. Our donors help us continue this work for artists in Australia.
Thank you to our Guardian Angels, donors of $1,000 or more, who help Australian artists fly
Donations of $5,000 and above
Colin Biggers & Paisley Foundation
King & Wood Mallesons
David Levine
Ben Quilty
Donations of $1,000 – $4,999
Bernard Coles QC
Daniel Creasey
Victoria Walker
The Hon. Justice Margaret Beazley AO
The Hon. George Palmer AM QC
Jeremy Storer
Sparke Helmore Lawyers
Charlotte Cooper
Michael Gill
Mary Hill
Susan Badyari
Brett Stiff
David and Judith Minty
Charles Alexander
Steven Boyages
Carroll & O'Dea Lawyers
Adam Casselden SC
Michael Cranitch
The Hon. Peter Heerey QC
Francois Kunc SC
Richard Lancaster SC
Norma Leslie
Alison Leslie
Dr Andrew Lu OAM
Norton Rose Fulbright
Ezekiel Solomon
Carol Webster SC
Mark Dempsey & Jodi Steele
Thank you to all of our generous donors who make our work possible.
$500 – $999
Andrew Antonas
Colleen Ball
Stephen Burley SC
Georgia Carter
Clarence, Workplaces for Professionals
Ieta D'Costa
Fouad Deiri
Mark Dempsey SC
The Hon. Elizabeth Evatt AC
Phillip Gibson
The Hon. Peter Heerey AM QC
Shelston IP
Michele Kearns
Andrew King
Kerry O'Brien
Thomas Sands
Charlotte Stayner-Cooper
David Studdy SC
Peter Vlahopol
Carol Webster Sc
Sue Woodward
Ian Wright
$2 – $499
Danielle Aalders
Nathan Abbott
Veronica Adams
Adrian Agius
Joseph Agius
James Aitchison
Ella Alexander
Kristina Alford
Kate Allan
Rachel Allan
Alsahra The Label
Dee Ardham
Leonie Armstrong
James Arnott
Robyn Ayres
Alexander Baker
Dallas Ball
Simon Banfield
Kathleen Banks
Andrew Barker
Mel Barry
christopher barwick
Michelle Bassett
Josie Bauer
Simon Bedford
Gillian Begg
Jannett Belfield
Narah Benn
Binung Boorigan Pty Ltd
Lauren Black
Alice Blackburn
Maria Blanco
Ian Bland
Carlita Bloecker
Columbine Bloodworth
Jack Bloomfield
Kalie Borsato
Karen Borsato
Victor Borzillo
Simone Bova
Nikki and Costa Boyages
Dianne Boyages
Stella Boyages
Jack Boyd
Linda Branton
Kym Brautigam
Peter Brereton
Cameron Brown
Olivia Brown
Finn Bryson
Russell Buckley
Noelle Buckley
Doreen Burge
Gregory Burton SC
Ben Caldwell
Alexa Callaghan
Bianca Calleja
Victoria Campbell
Ariane Campbell
Stephen Campbell
Andrew Carter
Pauline Casely-Hayford
Dara Cauton
Patrick Cavanagh
Amanda Cefai
Simon Chan
Ben Chedid
Angela Chen
Lucy Chen
Youko Chou
Pauline Clague
Michael Coggins
Richard Connolly
Ian Cooke
Sam Cooksley
Madeleine Copley
john corker
Jackson Coutts
Jason Craig
The Hon. Malcolm Craig QC
Gavin Creighton
Will Creighton
David and Helen Crew
Samantha Cumiskey
Carolyn Cunningham
Louise Daniels
Fiona David
Samuel Day
Richard de Carvalho
Suzanne Derry
Natasha Devos
Kristy Dickinson
Darren Dougan
Stephanie Dower
John Duckett
Tim Dunn
Emma Dunphy
Vijay Edwards
Mary Egan
Lee Elsdon
John Emmerig
Christy Englezakis
Natalee Faraz
Mark Feebrey
Angela Ferrarin
Grant Finnegan
Laura Fisher
Heather Forbes-McKeon
Susie Ford
Ann Fordyce
Linda Foreman
Kate Foster
Fay Foster-Swan
Bradley Fuller
Venus Ganis
Jean Gardiner
Heaps Gay
Alissar Gazal
Luisa Giannone
Christine Gibara
Sabrina Giudici
Alexis Goodwin
Judy Grady
Bree Graham
Caroline Graley
Luke Grayson
Helen Gregory
Peter Griffin
Vanessa Gulesserian
Gunggari Native Title Aboriginal Corporation
Justice Peter Hamill
Jack Hamilton
Holly Hancock
Tanya Hanley
Clinton Hanney
Morgan Hansen
Sheldon Harrington
James Harris
Geoff Harrison
Christopher Hartcher
Margaret Harvison
Russell Havik
Andy Hawkins
Claire Hayward
Mark Hearl
Jess Heimburger
Julie Hellwig
Robert Herbertson
Michael Herring
Jeannie Heynatz
Leigh Higgins
Ruth Higgins
Rebecca Hosking
Heather Hummel
Catherine Hunter
Kaylene Hunter
Liz Hussey
Victoria Iles
Karen Iles
Jacqui Ilic
Indigenous Art Centre Alliance
Tiffanie Ireland
Margaret Irwin
Lisa James
Jason James
Judy Jin
John de Mestre & Co
Cameron Johnson
Daisy Johnson
Michelle Johnston
Bella Johnston
Chris Jones
Dale Jones
Saana Juntunen
Kaiela Arts Shepparton
Jescinta Kaiser
Debbie Kaminskas
Timothy Kastengren
Laura Keily
Kate Keleher
Nathan Kennedy
Ann-Marie King
Min Ko
Madeleine Kober
Gerard Kodomichalos
William Lacy
Andrew Le
Georgie Leahy
Jeffrey Lees
Elgin Legal
Litton Legal
Margaret Lenaghan
Michael Lenicka
Alec Leopold
Claudine Leslie
Hugh Leslie
Pru Leslie
Ping Li
Geoff Lloyd
Lizzi Lovegrove
Samantha Lovrich
Sarah Low
Annmarie Lumsden
Peter Lunt
Nic Luxford
Ann Luxford
Tori Luxford
Sam Lythgo
Courtney Macdade
Lucyna MacDermott
Aileen MacDonald
Angela Macpherson
Brendan Maier
George Mailath
Rita Mallia
Fiona Malone
Mina Maniska
Sara Mann
Amanda Margariti
Lee Ann Marsh
Margaret Marsh
Ben Martin
Andrew Mathers
Linda Mathieson
Vicki Matson-Green
Diane Matthews
Sue Maxwell
Greg McCann
Kirsty McColl
Marnie McConnell
Georgia Mcconnell
Kate McCormack
Carole McCormick
Thomas McEwan
Alastair McEwin
Annabel McGagh
Lyn McGeoch
Joey McKenzie
Jennifer Mckenzie
Pam McKenzie
Jemma McLaughlin
Elise Mclennan
Emily McRae
Kevin and Nola McSweeney
Evelyn Meads
Julie Anne Meagher
John Meers
Landis Michaels
Laini Miller
Steven Miller
Effie Mitchell
Cheryl Moggs
Lynda Moore
Peter Moran
Joshua Morris
Joanna Morrison
Arthur Moses
Keenan Muir
Audra Murray
Wendy, Elaine and Ki Murray
Amy Naumann
Bailey Neate
Peter Nelson
Farzad Nooravi
Stephanie O'Connor
Kristyn Ohandja
Kevin O'Hare
Dominic Ong
Rikki and Chris Padt
Julia Paino
Michelle Painter
Leiarna Paterno
Elaine Patterson
Rob Pek
Lisa Perkins
Melissa Perry
Marlo Perry
Renee Peters
Play Principle Pty Ltd
Cinnamon Pollard
Theresa Power
Precision Action Entertainment Pty Ltd
Douglas Prime
Cali Prince
Andrew Probert
Illuminart Productions Pty Ltd Productions
Shaun Pryor
Stacey Quinn
Lynn Ralph
Hayley Reed
John Rees
Nathan Rhimes
Sarah Ridout
Lisa Rodgie
Stephanie Ross
Katrina Rossow
Julia Roy
Shannon Rua
Kay Rundle
Michael Russell
Sallyanne Ryan
Amanda Ryding
Kotia Sandila
Eva Scheerlinck
Brett Schmidt
Peter Schmidt
Mary-Louise Schwind
Anne-Marie Sears
Karin Setchell
Tim Seton
Julian Sexton SC
Christopher Shain
Shelby and Sharpie Sharp
Kelli Shaw
Sharmila Shearing
Tony Sheffield
Robert Sheldon
Mary-Anne Shonoda
Catherine Shrubsole
Jacqui Shukowski
Melanie Simmonds
Dillon Simmons
Thalia Skopellos
Rod Smith
Brecht Snijders
Kara Soccio
Anthony Spencer
Rebecca Spowart
Donna Staines
Tegan Stait
Josephine Steele
Kath Stiff
Briarna Stiff
Denis Stokes
Sarina Stretton
Kate Sullivan
Juliet Summers
Joanna Syme
Sharron Tancred
Tapatjatjaka Art and Craft
Jonathon Tapp
Jennifer Taranto
Georgina Taylor
Thornbill Textiles
Christopher Thomas
Vanessa Thomas
Ryan Thorne
Jessica Tief
Nick Tobin
Nicole Tolikas
Dominic Toomey
Bulbul Trading
Brenda Tronson
Maddie Trussell
Andrew Tulloch
Micheal Turnbull
Daniel Tweedale
Laura Twomey
Stuart Unwin
Steve Urwin
Robyn Usher
Mandy van den Elshout
Philip van der Kolff
Shelley Voigt
Thomas Wakim
Anika Waldin
Louise Walker
Nicola Walker
Jennifer Walker
Greg Waters
Harriette Watson
Alexandra Watson
Kimberlee Weatherall
Richard Weinstein Sc
Robert Wendon
Carla Werrin
Lesley Whalan
Lesley Whalan SC
John White
White Clover Music
David Whitting
Kate Wilkins
Katherine Wilkins
Megan Williams
Kim Williams
Kate Williams
Lynne-Marie Wilson
Brendan Woithe
Stacey Wood
Blair Wood
James Woods
XMPLA
Lilian Yeow
Baron Zhang
Liza Ziegelaar