The Artists in the Black program survives following the Attorney-General's announcement of funding
On the 2nd of September the former Attorney-General, Mark Dreyfus QC announced the Arts Law Centre of Australia will receive $480,000 over the next four years to help continue its Artists in the Black outreach program providing legal services to Aboriginal and Torres Strait Islander artists and their communities. The announcement of the funding comes at a critical time for the Centre following the sudden decision by the Office for the Arts to discontinue its funding support. The grant replaces a significant part of the funding required to continue delivering this unique national service. The Attorney-General recognised the vital importance of this program in providing Aboriginal and Torres Strait Islander artists with direct access to legal advice and support. The announcement was attended by the Director of Community Legal Centres NSW, Alastair McEwin, the President of the Arts Law Board, The Hon Justice Margaret Beazley AO, Arts Law Board members and staff.
The Arts Law Centre of Australia is the only community based legal service in Australia providing legal advice to the whole of the arts and cultural community in Australia. Established in 2004 by Arts Law, the Artists in the Black program provides free, culturally appropriate and specialised legal resources and assistance to Aboriginal and Torres Strait Islander artists, art organisations and communities to protect their artistic and creative practices, their intellectual property and their cultural heritage. In 2012 the provision of legal services to the Indigenous arts community comprised approximately 25% of Arts Law's legal work. Last year alone, Artists in the Black provided legal advice to Aboriginal and Torres Strait Islander artists in almost 900 cases, visited 19 Indigenous communities and delivered 27 educational sessions in urban, remote and regional areas. The loss of this service would have been devastating for the artists, their families and their community organisations, particularly in the remote and regional areas of Australia. Arts Law is continuing its efforts to restore operational funding to previous levels and this grant makes a very substantial contribution to that objective.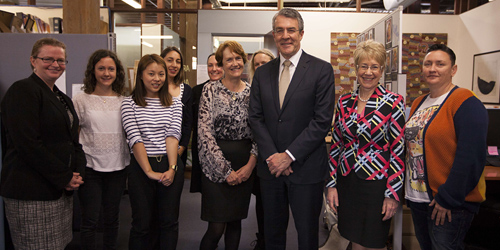 photo by Devris Hasan reproduced with permission.