Board member profiles
The Hon Justice Margaret Beazley QC AO
, President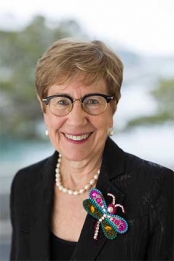 Margaret Beazley attended the Sydney Law School graduating with Honours in Law in 1974 and was admitted to the New South Wales Bar on 14 March 1975. She was appointed a Queens Counsel in 1989. In 1993, her Honour was appointed as a judge of the Federal Court of Australia. In 1996 she was the first woman appointed to the New South Wales Court of Appeal, where she currently sits and is one of the most senior women judges in Australia. She is Chairperson of the NSW Chapter of the Australian Institute of Administrative Law and Patron of the Toongabbie Legal Centre. Her Honour was made an Officer in the Order of Australia in the Queens' Birthday Honours List on 12 June 2006 for service to the judiciary and the law, particularly through contributions to professional and ethical standards, to the advancement of women in the legal profession and the community. In May 2008, her Honour was awarded Doctor of Laws honoris causa (Hon LLD) by the University of Sydney.
Justice Beazley has been President of Arts Law since 2011.
Andrew Wiseman
, Vice President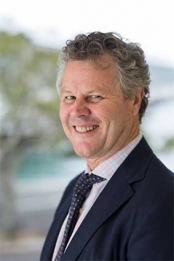 Andrew Wiseman is an intellectual property and technology lawyer with over 25 years experience. He has built his reputation through his work for high-profile international and domestic clients across many industries on copyright, piracy, licensing, marketing, confidentiality, trade mark and many other issues.
Andrew has a unique blend of litigation, intellectual property and commercial legal skills that makes him one of Australia's leading music industry lawyers. He has acted on international landmark music industry litigation and commercialisation. Sony Music, Sony/ATV Publishing, Sony Pictures, Sydney Symphony Orchestra and Orchestra Victoria together with a variety of international and local artists, managers and others in the entertainment business seek Andrew's ongoing advice and representation. In addition, clients seek Andrew's drafting and negotiation skills for their general commercial contracts, distribution agreements, recording contracts, publishing contracts and producer contracts.
Andrew is committed to protecting artists that are vulnerable in respect of their legal rights and is dedicated to meeting the needs within Australia's arts community for practical legal advice and education and other resources to support artist's rights.
Andrew has been a partner of Allens Arthur Robinson since 1995 and a director of Arts Law since 2008.
Navid Bahadori
, Treasurer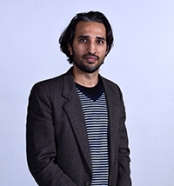 Navid Bahadori is Co-Founder & Managing Director at Broken Yellow, a film production and creative services company. Navid is an Australian Legal Practitioner, accountant and has completed his Masters in Laws at Sydney University focusing on commercial and taxation law. Navid also has extensive practical experience in intellectual property law from his involvement with Broken Yellow productions.
He started out his career in criminal law and then spent 8 years working in commercial taxation consulting working for Deloitte in Sydney and then as Regional Taxation Manager at ResMed in Australia. He has been concurrently involved with Broken Yellow for over 15 years.
Acting as Treasurer of Arts Law, Navid brings these extensive commercial and accounting experiences to assist guiding the Board's decisions.
Navid has been Honorary Treasurer of Arts Law since February 2015.
Bronwyn Bancroft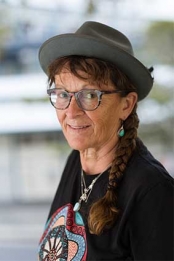 Bronwyn is a Djanbun clan member of the Bundjalung Nation. In a career spanning over three decades, Bronwyn has participated in hundreds of exhibitions, both solo and group, within Australia and overseas.
Collections that have acquired her work are; National Gallery of Australia, Macquarie
University, Art Gallery of New South Wales, Art Gallery of Western Australia, State
Library of New South Wales, State Library of Victoria, Australian Museum and Artbank, as well as in overseas collections such as Newark Museum USA, Prime Minister of Turkey, The Kelton Foundation USA, Volkerkunde Museum, Germany and Westpac USA.
Bronwyn has worked as a volunteer at Boomalli Aboriginal Artists Co-operative for the last 7 years as curator/business planner and senior strategist. Bronwyn currently holds Board positions with Australian Indigenous Mentoring Experience (AIME), Boomalli Aboriginal Artists Co-operative, Commonwealth Bank RAP Committee and Copyright Agency.
Bronwyn has a Diploma of Visual Arts; two Masters Degrees from the University of Sydney, one in Studio Practice and the other in Visual Art. She is currently a Doctoral candidate at the University of Sydney.
Deb Camden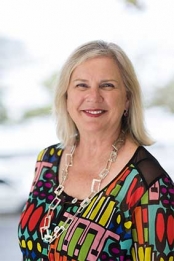 Deb Camden is a career communicator and consultant with more than 35 years' experience in media and communication, specialising in strategic communication planning and stakeholder engagement.
The founder of a boutique communication consultancy, Deb is inspired by the disciplines of architecture, art and design in developing communication strategies for clients operating in the private, public and non-profit sectors throughout Australia.

She works with organisations who want to tap into the sentiments of their key stakeholder audiences in sustainable ways. Her hallmark is designing memorable, elegant and practical solutions to complex and contentious public issues. Deb's early roles as a journalist with the Brisbane Telegraph, Managing Director of Brisbane's tourism marketing authority and Director of Queensland Events Corporation underscore her hands-on and practical approach to communication.
Deb holds a Bachelor of Business (Communication) from QUT and a Master of Business Administration from The University of Queensland. She serves on the Board of the International Association of Business Communicators (Queensland) and is a member of the Public Relations Institute of Australia.
Deb has a passion for the arts, in particular, the performing arts having qualified as a teacher of tap in her early life. Deb was welcomed onto the Board of Arts Law in April 2016.
Michelle Gibbings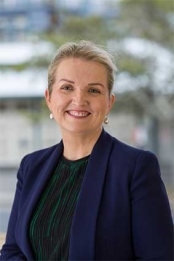 Michelle Gibbings is a leadership and career expert. The author of Step Up: How to Build your Influence at Work, and Career Leap: How to reinvent and liberate your career, Michelle is an international keynote speaker, advisor, facilitator and executive mentor for leading global organisations.
She has undergraduate degrees in Communications and Commerce, and a Masters in International Trade. She is a Certified Compliance Professional from the Governance Risk and Compliance Institute, and a graduate of the Australian Institute of Company Directors.
Michelle actively supports Arts and Community organisations, having served as a Board member for an independent theatre company and a community radio station.
Michelle has been a director of Arts Law since October 2014.
Dr Andrew Lu OAM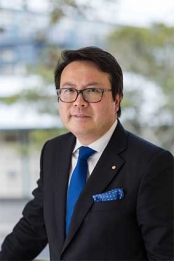 Andrew Lu is a solicitor specialising in general insurance, health care liability, and medical defence. A partner of HBA Legal, he represents hospitals, health practitioners, and government in civil, coronial and disciplinary matters. He is an experienced trial and appellate advocate, and also appears at inquests and inquiries. Andrew graduated LLB from the University of Western Australia, LLM from New England, and SJD from The Australian National University. He is a Fellow of the Australian Academy of Law and of ANZIIF, adjunct Senior Lecturer at UWA Law School, and a sessional Member of the State Administrative Tribunal.
Dr Lu is also a non-executive director of the Australian Youth Orchestra, and the National Gallery of Australia Foundation. A member of the Council of the Art Gallery of Western Australia Foundation, he chairs the Fulbright Commission's WA Selection Committee, and was awarded an Order of Australia medal in 2008.