Arts Law Allies
On 6 October we launched our new donor program Arts Law Allies.
Arts Law Allies are passionate advocates who donate $1,000 or more to help support Arts Law to strengthen value and respect for arts and culture to make a better world.
The Arts Law Allies program will replace the current Guardian Angels program. Our Guardian Angels have been an important part of the Arts Law family for many years and each of you have helped to shape our success to date. We'd like to thank all of our current and former Guardian Angels for their support.
We are excited about sharing the future will you as Arts Law Allies.
Arts Law Allies recieve:
Recognition on our website and in our communications
Updates on how their donations help in our monthly newsletter art+LAW
Invitations to exclusive Arts Law events
The knowledge and satisfaction that you are contributing to strengthening value and respect for arts and culture to make a better world
Bronze Ally:
Donors of over $1000
Silver Ally:
Donors of over $3000
Gold Ally:
Donors of over $5000
Platinum Ally:
Donors of over $10,000
Why become an Arts Law Ally?
Arts Law is Australia's only community legal centre for the arts. We provide free or low-cost professional legal advice to Australia's 50,000 professional artists, 600,000 arts workers and arts organisations all over the country. Though Artists in the Black we deliver tailored legal services to Aboriginal and Torres Strait Islander artists and communities.
Your support is needed now more than ever. The arts community is in crisis as a result of COVID-19 and the recovery is likely to be extremely challenging. More than ever before, artists and arts organisations will need the support of our team of legal advisors who understand them, are committed to the sector and can help navigate the way through these difficult times.
Already this year we have delivered advice to over 1700 artists and arts organisations and expanded our education delivery online to reach an audience of over 1600. With your support we can achieve so much more.
Some examples of how your support could help:
$500 will give one Aboriginal or Torres Strait Islander artist a will to manage their assets and copyright
$2000 will fund a legal education session for artists in regional Australia
$5000 will fund one outreach trip to a remote Aboriginal or Torres Strait Islander community
$25,000 will allow us to upgrade our technology and create an online portal for artists across Australia to access our services
From 6 October 2020 our Guardian Angels will be recognised as Foundation Arts Law Allies
Foundation Allies
The Hon Margaret Beazley AO QC
David Levine AO RFD QC
Martin Place Chambers
David Marr

Charles Alexander 

Adam Casselden SC

Mark Dempsey SC

Elizabeth Evatt AC AO

Jeffrey Hilton

Justice Francois Kunc SC
Alison Leslie
Andrew Lu OAM
Colin Biggers & Paisley
George Palmer AM QC
Shane Simpson AM
Ezekiel Solomon AM
Become an Arts Law Ally and make a commitment to Australia's artists today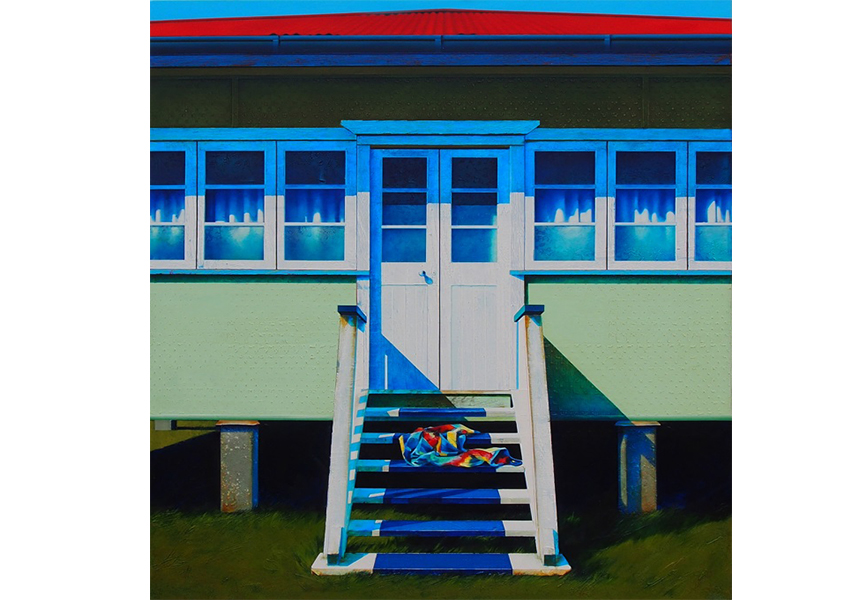 On the Beach © Susan Schmidt 2014
The impact of your donation
Susan Schmidt is a Queensland-based fine-arts painter, graphic designer and award-winning illustrator. Her works have featured in numerous exhibitions within Australia and overseas, including the Chelsea International Fine Art Collective in New York in 2012 and Contemporary Istanbul in 2014. Susan approached Arts Law in 2014 after she saw one of her artworks reproduced on a book cover without her permission. Susan had never received legal assistance before this. "I think everybody has trepidation about [their first] legal experience" Susan explained. "Where's it going to go? How much is it going to cost? I don't think it's something anybody wants to venture into." Susan was thrilled with the assistance she received from Arts Law. As a result of our clear and helpful instructions she was able to negotiate with the publisher, confident about her rights and able to get a fair response.
With your help we can assist more artists like Susan and keep Australia's artistic community thriving for years to come.