Support Us
There are several ways you can support Arts Law and the work we do for artists and the arts community of Australia.
Meet some of the artists we have helped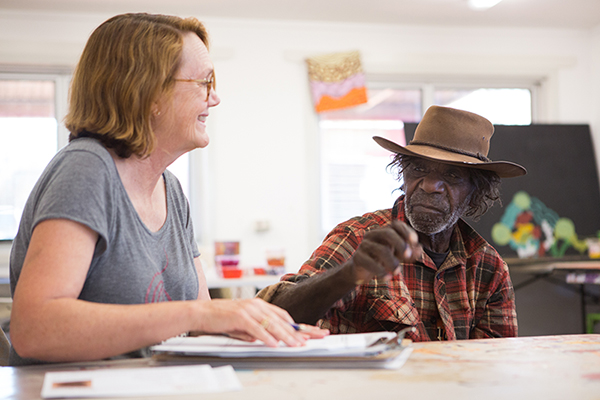 Director Legal Services Delwyn Everard and artist, photograph by Ian Morton 2016
1. Volunteer
Assist us by volunteering as a panel lawyer, note-taker or daytime volunteer.
2. Donate
Increasingly Arts Law needs your financial support to continue providing access to legal advice and resources for artists in Australia.
Every artist needs a Guardian Angel
Make a Donation today
3. Adopt a Lawyer
The Adopt a Lawyer pro bono program partners Aboriginal and Torres Strait Islander community arts centres with an experienced law firm for period of three years, fostering partnerships that enable art centres to secure greater access to legal advice as well as building a closer relationship between law firms and Australia's ancient Indigenous culture. Learn more about this great program and how to get involved.
$1,000 - $4,999
The Hon. Justice Margaret Beazley AO
The Hon. George Palmer AM QC
Dr Andrew Lu OAM
Susie Manfred
Julian Sexton SC
Tobias Richardson
Enid Charlton
Mark Stapleton
Electra Frost Accounting
Shane Simpson AM
Jeremy Storer
The Hon Peter Heerey QC
Carol Webster SC
Jane Needham SC
Michelle Gibbings
Brian Tucker
David and Judith Minty
Thank you to our supporters:
$500 - $999
Greer Simpkin
Elizabeth Laverty
Mark Dempsey SC
Chaman Sidhu
Howard Insall SC
Mark Watson SC
David Studdy SC
Stephen Burley SC
$2 - $499
Carol Webster SC
Anthony Schmidt
Julie Fitzgerald
Lorraine Binnington
Jennifer Taranto
Fern Smith
Carrie Follas
Mary Hill
Jane Ramsey
Michael McMahon
Peter Miller
Plummer & Smith
John Szatkowski
Yuxuan Tang
Juanita Pope
Robyn Ayres
Neil Brown QC
James Duncan
Denis Stokes
Megan Brownlow
Renelle Richards
Miles Condon
Tamara Leerson
Lisa Bremner
Mark Lynch
Brenda Tronson
Glenn Crouch
Michele Kearns
Kristina Stern
Anthony Herro
Leslie Irwig
Lander & Rogers Lawyers
David Higgs SC
Jacob Trindorfer
Marcus Freeman
Neil Brown QC
Uttam Mukherjee
Sally Morgan
Tony Sheffield
Rick Davies
Jennifer Goh
Patrick Balzen
Romano Crivici
Isabelle Hazell
Nicholas Dainty
Alison Whittaker
Philippa Abbott
Sharmila Shearing
Maureen Craig
Sharon Ayres
Megan Bryan
Sophie Byrne
Carlene Colahan
Chris Frommer
Judy Grady
Niklas Mather
Mary Jane McKerihan
Anthony O'Grady
David Robb
Lisa Villani
Mary Day
Virginia Gordon
Lilian Lee
Alison Leslie
Colleen Thorp
Harriett England
Jay Sanchez
Angela Prendergast
Hien Vy Cao
Victoria Wills
Gregory Burton SC
Eve Abbey
The Cultural Centre
Abigail Carreon
John Campbell
Juliet Summers
Naughti-Kool Productions
Celine Dubois
Gerald Sanyangore
The Hon Elizabeth Evatt AC
Peter Griffin
Brad Hosking
Mary Egan
Farzad Nooravi, Doongal Aboriginal Art
Angela Marr-Grogan
Tony Jones
Stephanie Ross
George Malaith
Kathryn Lovejoy
Carola Akindele-Obe
Natalie Brown
Peter Miller
Gayle Reichelt
Rhadi Bryant
Paula Stirland
Natalie Buckett
Michelle Hanna
Frontyard Films
Dr Ella Whateley
Warrnambool Art Gallery
Angelika Waesch
Christopher Jervis
Sophie Aked
Umbrella Studio Contemporary Arts
David Norris-Nicholas
Ian Bland
Debra Hood
Moira Deslandes