Arts Law works with First Languages Australia for 2019 International Year of Indigenous Languages
'Little one, I see you mouth empty spaces for a mother's words to fill and stretch your ears for their stories and their voices'

Kirli Saunders, from 'Disconnection' in Kindred, 2019.
Arts Law has been funded by the Federal Government's Indigenous Languages Australia program and is working on a "Digital Deeds" project with First Languages Australia to develop best practice template agreements for language centres to use in contracting with contributors, communities and purchasers to ensure they're readily accessible for the language centres based throughout the country. These contracts will address the licensing of copyright in the language resources.
As part of the research for this project Arts Law senior solicitor, Donna Robinson, attended the 7th PULiiMA Indigenous Languages & Technology Conference in Darwin on 21 and 22 August 2019, hosted by the Miromaa Aboriginal Language & Technology Centre. Over 500 people attended the conference, most of whom were from Indigenous language organisations throughout Australia. There were also participants and speakers from Indigenous language organisations from New Zealand and Canada who offered their own experiences in this area.
2019 is the UNESCO International Year of Indigenous Languages and the hope is that this will be the impetus for the increasing revitalisation of Indigenous languages worldwide (rather than it being a high point in the process). This is a very exciting time for the revitalisation of language in Australia where there are reportedly 250 different Indigenous languages.
The program provided a tremendous range of presentations, observations, experiences and workshops over an intensive two days. Topics ranged from ethnobiology, poetry, the Aboriginal Languages Act 2017 (NSW) the first such legislation in Australia, and Indigenous Culture and Intellectual Property (ICIP). A number of language centres gave presentations about the projects they're working on and the techniques they use to encourage learning. Indigenous language centres are working in a wide variety of mediums to record and revitalise Aboriginal and Torres Strait Islander languages – including an interactive soft toy crocodile with an embedded computer and software which can be adapted for any device with a console and interactive screen. There were presentations on the use of different technologies, some cutting edge and others tried and true, which are assisting in the teaching of Indigenous languages.
The peak body for language organisations, First Languages Australia, spoke about a range of current projects including a partnership with the ABC that means Indigenous languages are now heard across all of their platforms, a partnership with Disney for a children's program in Indigenous language called "Spread the Word", and the ongoing contribution of Indigenous language sound bites as part of a worldwide project to associate clips of Indigenous languages with places on Google Earth.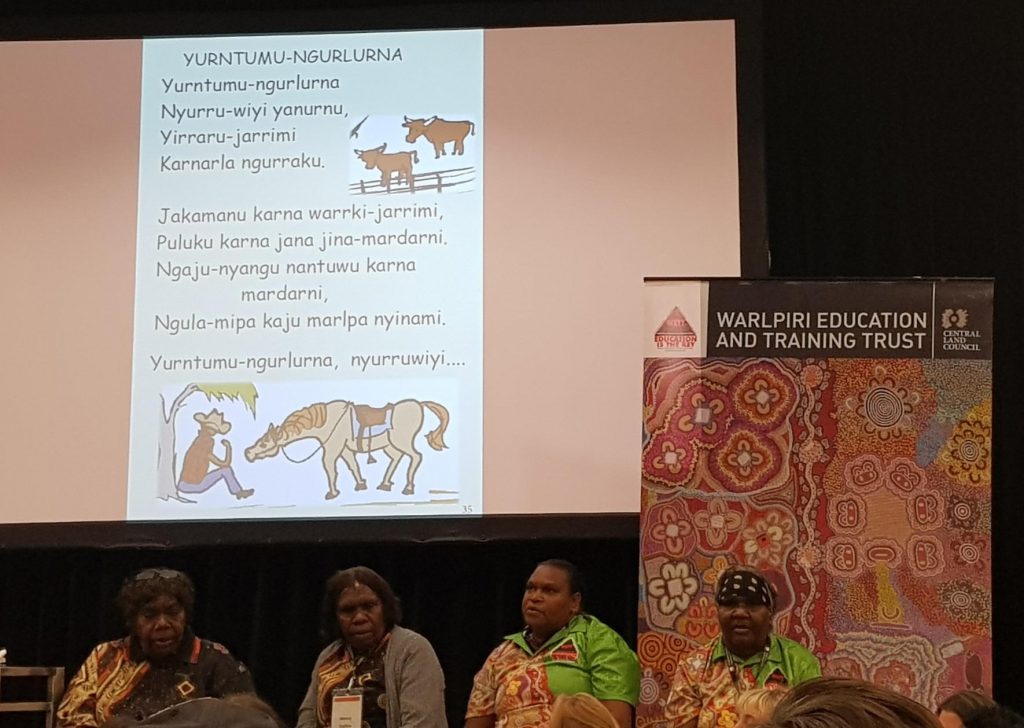 The poet Kirli Saunders spoke about Indigenous poetry and an extract from one of her beautiful poems is at the introduction to this article.  There was an excellent talk, presented in Auslan by Rodney Adams, on the need to increase the use of sign language in indigenous communities where the incidence of deafness and hearing loss is much higher than in the rest of the population and without sign language is an impediment to obtaining a full education.  This presentation included reference to the widespread use of a common sign language among the different Indigenous tribes across the plains of the US, Canada and northern Mexico, the Plains Indian Sign Language, for many centuries particularly in the 1800s.
Overall the conference made clear that the focus of these language organisations is to record languages before, and sometimes after, they have been lost and to educate the next generation in those languages. Education of the next generation came up again and again. There is a push for Indigenous languages to form part of the school curriculum throughout the country, and it is ironic that these languages aren't commonly being taught whereas languages from many other countries are. However Indigenous languages are now being taught in some schools and a lot of work is being done to expand this spread through a national strategy.
On 23 August 2019 Lee Elsdon, a lawyer at Arts Law, joined Donna to attend the First Languages Australia meeting which followed on from the conference. The meeting started off with a panel on which Donna talked about the Digital Deeds project and the importance of having clear agreements in place to record who owns the copyright in stories, words, images, videos and other mediums. Other panellists covered working with language in science, the development of protocols and pay rates and awards for workers in language organisations. Following the panel there were workshops where Arts Law gave advice to participants on legal questions raised and obtained feedback on which contracts would best assist the organisations in the work they're doing now, and in the near future.
When completed in 2020, the Arts Law template contracts and explanatory notes will be available on the Arts Law website.