Auburn City Council: Best Practice and Licensing Images for Merchandise
Auburn City Council is a vibrant council in the heart of Western Sydney and is host to a unique fusion of cultures from around the world. As the Arts Coordinator at Auburn City Council, Jenny Cheeseman plays an active role in supporting the growth and development of the artistic community, helping local artists to gain access to council resources and link-up with other artists and community partners on joint and individual projects.
One recent project undertaken by Jenny and the Council was the Public Libraries' bookmarks project run as part of their "Year of Reading" program. The project provided the Council with an opportunity to promote their cultural resources, library services and staff and showcase selected artworks by artists from the Auburn Artists Network on printed bookmarks. The project also provided professional development to local artists through a series of educational workshops on copyright and intellectual property rights provided by Arts Law.
The bookmarks project, now in its fourth year, has been a great success amongst the local community. The artworks and photographs selected are chosen from works submitted for the annual Auburn Mayoral Art and Photography awards exhibited at the Peacock Gallery, Auburn.  Jenny says that "as well as a great opportunity to provide development and support to local artists, the new library bookmarks have become an annual activity that is eagerly anticipated each year with people collecting each series."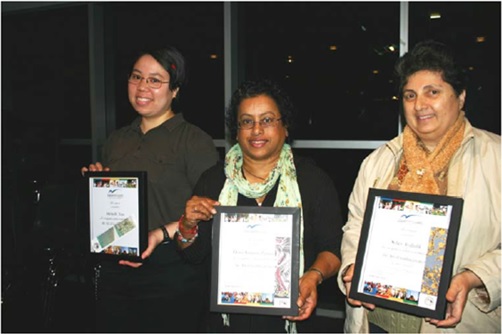 Michelle Tran, Dona Samson Zappone and Seher Aydinlik receiving their certificate of thanks and bookmark from Auburn City Council. Photo © Auburn City Council.
Legal Query
The Council needed permission from the artists to reproduce the selected artworks on bookmarks so Jenny asked Arts Law for assistance with drafting a 'best practice' agreement. She wanted to know how the Council could best balance the need to provide a fair model licensing agreement for artists and at the same time ensure that the Council would be able to use the artworks for their desired purpose.
'Artists First' and Best Practice
As the national community legal centre for the arts, Arts Law has an 'artists first' policy. This means that in any dispute or contracting arrangement between a specific artist and an arts organisation (e.g. between a visual artist and a gallery) Arts Law will not advise the arts organisation. This leaves Arts Law free to advise the specific artist if they require assistance. However, Arts Law frequently gets requests from organisations (such as local councils) for advice on terms and conditions for working with artists. While our 'artists first' policy would normally mean that we would decline to provide that advice, there are circumstances in which Arts Law may offer 'best practice' advice if the organisation agrees that Arts Law can also advise any artists involved.
Best practice advice means that Arts Law provides advice with a view to recommending fair terms for the individual artists with whom the organisation will be dealing with while still trying to achieve a sensible commercial outcome for the organisation. In other words Arts Law will give advice as if the organisation had instructed "please advise us how to achieve a result which is fair to the artist as well".
Licensing Agreement
Arts Law drafted a licence agreement for Auburn City Council that clearly identified a "permitted purpose" for use of the artists' work and clearly outlined how the artists would be credited. The agreement also included a clause outlining what reasonable changes Auburn City Council could make to the licensed artwork in accordance with the permitted purpose (e.g. being able to format the artwork as a bookmark). Importantly, under the licence the artist would retain full ownership over the copyright in their artwork and would be free to exploit the artwork for other commercial uses for the duration of the licence period. The artists were also paid a licence fee for use of their work on the bookmarks.  
Auburn City Council are pleased that the licence agreements that they offer local artists are fair to those artists and the agreements provide those artists with a model example to refer to when negotiating their own merchandising agreements with other commercial partners.
"It was great to be able to take an initiative by the Auburn Library and add a development opportunity for local artists.  Learning about license agreements as well as the opportunity to be part of the bookmark project has added an eagerly anticipated annual activity for local artists and produced highly sought after bookmark series."
Update
Auburn City Council advised that after an initial print run of 5,000 bookmarks this year they were required to reprint a further 10,000 bookmarks and are close to running out of those too!
Further useful Arts Law resources: