Healthcare choir gets the go ahead for Neil Diamond's "Sweet Caroline"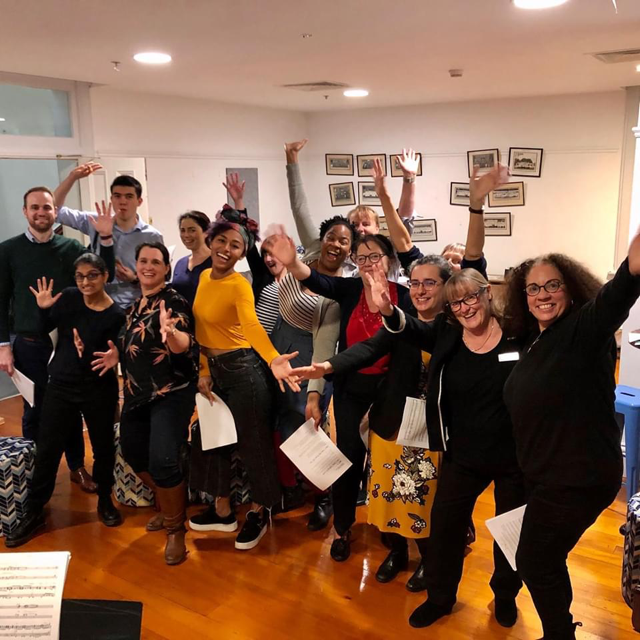 The COVID-19 crisis has certainly changed the way we all thought 2020 would play out. For the conductor of a community choir of health workers, it meant that in-person rehearsals were halted, prompting the question: what can be done to keep the choir going, and to provide an outlet for the incredible doctors and nurses in this difficult time?
Choir conductor Elizabeth Lecoanet conducts the Sydney Local Health District Feel Good Choir. This is a community choir made up of doctors, nurses, and other healthcare workers at Royal Prince Alfred Hospital in Sydney. Elizabeth had an idea. Each choir member could record themselves individually singing a song, which she could then edit together into a video of the choir all singing together. It was decided that it would be fun to adapt the lyrics of Neil Diamond's "Sweet Caroline" in a way that would encourage people to wash their hands.
Elizabeth knew that using someone else's song (particularly such a famous one) might raise some legal issues – she was right! Not knowing what to do next, Elizabeth contacted APRA AMCOS, a natural first step. The problem was, while APRA AMCOS can issue a licence to record someone else's song, it can't issue a licence to adapt the song (eg. change the lyrics), or to use it on a video (known as a sync licence). APRA AMCOS suggested that Elizabeth contact Arts Law, which she did. Arts Law informed Elizabeth that copyright protection applies to music, lyrics and sound recordings separately, and that she would need to get a licence to adapt the lyrics of "Sweet Caroline", to record it, and to include it on the video for the purpose of sharing online and displaying in the hospital. Arts Law also informed Elizabeth that as the songwriter, Neil Diamond would need to give personal consent for his lyrics to be altered.
It would be fair to say that Elizabeth felt this all might be too hard given the fact that the project was so small and there was no intention to make any money out of the video. The Arts Law lawyer, Lee Elsdon, advised Elizabeth that she should contact the Sydney office of Neil Diamond's publishing company to see if it has the authority to issue a licence. Elizabeth did so and was told she would hear back. After a short wait, Elizabeth was pleasantly surprised to hear that not only had Neil Diamond consented to the changed lyrics, but he had sent a personal message of support along with his wife Katie that read:
"Please tell them that (we) appreciate all the healthcare workers. We've got lots of friends over there and wish everyone the best during this time." 
Neil Diamond's publishing company issued Elizabeth with the licence required, and the choir was able to go ahead and create their video. You can see the finished product on the Sydney Local Health District's Facebook page here.
This story shows that anything is possible if you know which path to take. If you are thinking of using someone else's music, or wish to license your own music for someone else to use, make sure you have a written agreement in place which will allow you to enforce your rights. Arts Law has a number of useful templates available online, including a Music Licence for Film, Music Licence for Games, and a Music Licence for Podcasts. If the person you're dealing with has their own agreement which they would like you to sign, Arts Law can review it for you. If you have a legal issue that you would like some advice on, you can contact Arts Law for free or low-cost advice on what your rights and options are, just like Elizabeth did.