Mandy Davis and her "Emu" painting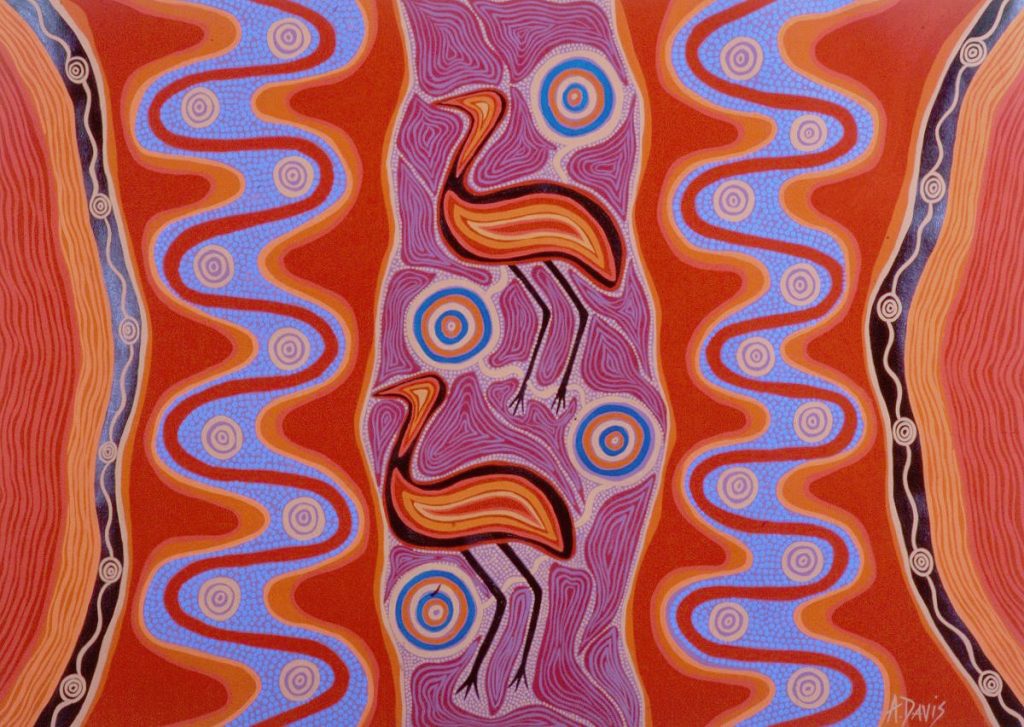 Visual artist Mandy Davis has received a settlement after starting legal proceedings for copyright and moral rights infringement, using our Artists in the Black service to access legal help.
Mandy Davis is a successful artist from the Worimi people from the Great Lakes district in Northern NSW. Davis has been painting since 1990. Several of her works have been licensed for use by companies and government agencies and she has had national and international exhibitions. In 2005, Davis saw her painting 'Emu' (Work) copied onto a commercial vehicle without her permission. She recalls "My first reaction was disbelief and then I was embarrassed as the artwork was distorted and didn't reflect the true design I had created."
The main issue was the infringement of her copyright in the work, coupled with infringements of her moral rights of attribution and of integrity and of attribution. The company distorted the work when reproducing it on the commercial vehicle – the colours were changed and there was no attribution of Davis as the original creator. These actions were all the more hurtful to Davis as her designs and artworks illustrate her cultural beliefs and values and her connection to her ancestors.
After several letters of demand did not resolve the matter, legal proceedings were commenced in the Federal Magistrates Court. Before the matter went to hearing, further discussions resulted in an agreement to remove the infringing artwork from the vehicles and the company's website. The terms of the final settlement are confidential.
Arts Law greatly appreciated the support of law firm Clayton Utz, which took the matter on a pro bono basis and donated over 140 pro bono hours to this case. This matter was run by senior associate Nicholas Tyacke and intellectual property litigation partner Peter Knight. Barrister Richard Cobden SC also provided his services on a pro bono basis representing Davis in court.
Mandy Davis says that "being involved in a court case gave me an insight into the legal side of copyright and what our moral rights are….Hopefully the company that used my artwork learned something out of the whole process and most importantly that what they did was morally and culturally wrong."
This matter not only demonstrates how pro bono work makes a difference, it also illustrates how copyright law can sometimes be used to protect Indigenous cultural intellectual property and integrity and is a great example of how Arts Law's Artists in the Black program works to empower Aboriginal and Torres Strait Islander artists.