Sarrita King and Resale Royalty Rights
Sarrita King and Resale Royalty Rights
Sarrita King is a contemporary Indigenous artist. She works mainly on canvas, but has also tried her hand at sculpture and other mediums.
Sarrita was born in Adelaide and grew up in Darwin. She is from the Gurindji and Wanyi language groups. Her father, William King Jungala was a well-known artist and played a huge part in motivating her to follow in his footsteps. 'Growing up in the Top End brought me closer to my Dad's hometown of Katherine and to my Dad's side of the family,' says Sarrita. 'This was great because I spent a lot of my holidays out bush visiting family; this is where I got a lot of the inspiration for my works.' Sarrita also says that her signature style, 'lightning,' was inspired by the intensity of the seasons of the Top End.
The resale royalty scheme for visual artists is a new scheme, brought in by the federal government in June 2010. Under the scheme, commercial resales of artworks must be reported and artists are entitled to a 5% royalty when their works are sold for at least $1000. The scheme applies to living artists for their lifetime plus 70 years posthumously and covers original works of visual art, such as paintings, sculpture, photography, etc. It, however, does not apply on the first "change of hands" nor does it apply to private sale from one to another.
Copyright Agency Limited (CAL) has been selected by former Arts Minister Peter Garrett to act as the "collecting society" and manage the scheme for a five-year period. It is responsible for collecting and paying royalties to artists, educating the sector about the scheme, and developing reciprocal arrangements with other countries that have resale royalty schemes already in place.
Sarrita first heard about the scheme from her manager and then she registered for the scheme online, via the resale royalty website. The website allows artists to register their works and to see whether or not any of their works have been resold.
Before the scheme came into being, artists only benefitted the first time their works were sold. Some artworks increase in value over time as they are sold and sold again, but the original artists weren't able to gain from the increase in value. 'The royalty scheme helps artists be more connected with their works even after it has been sold. Knowing the works are being sold and sold again is exciting, and knowing my children someday will benefit from my works is great,' says Sarrita.
Sarrita is lucky to work with a good manager and has a great connection with the galleries that represent her. Both have been supportive of the scheme, and Sarrita says that she hasn't needed to change the way she sells her work through galleries and dealers.
'The resale royalty means that into the future I will be able to benefit from my work increasing in value. I think that the royalty is great for the art industry as a whole, and even more so for artists. I think the royalty is especially beneficial to the elder artists that I have been lucky enough to meet. Knowing that they will get payments as their works become collectable and the values go up, I'm happy that they will also benefit from the rise.'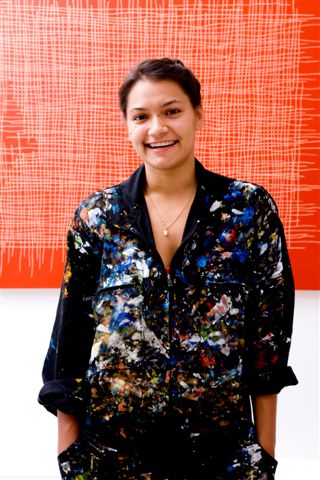 Photo by Saville Coble. Artwork by Sarrita King, Our Land (2 panels of 100x162cm – 2011, Acrylic on linen).
Tags: visual arts, resale rights
Further resources
Information Sheets
Arts Law publishes the following information sheet
CAL publishes the following information sheets:

For art market professionals (AMP)
For artists
For buyers and sellers
For Indigenous art centres
Media Releases