Thank You
megan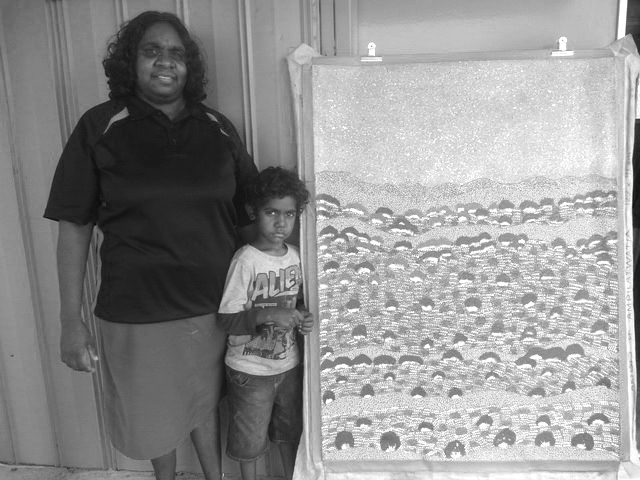 Arts Law helped the Artists of Ampilatwatja to recover money and paintings from a London gallery. Our donors help us continue this work for artists in Australia.
Thank you to our Guardian Angels, donors of $1000 or more, who help Australian artists fly
$5000 and above
The Hon. David Levine AO RFD QC
$1,000 - $4,999
The Hon. Justice Margaret Beazley AO
The Hon. George Palmer AM QC
Adam Casselden SC
Dr Andrew Lu OAM
Elizabeth Fox
Anthony McInerney SC
Alison Leslie
Mark O'Brien
Jeremy Storer
Susie Manfred
Julian Sexton SC
Tobias Richardson
Enid Charlton
Mark Stapleton
Electra Frost Accounting
Shane Simpson AM
The Hon. Peter Heerey QC
Carol Webster SC
Brian Tucker
David and Judith Minty
Thank you to all of our generous donors who make our work possible.
$500 - $999
David Cornwell
Elizabeth Laverty
Carol Webster SC
Craig Jason
Mark Dempsey SC
Stephen Burley SC
Chaman Sidhu
Howard Insall SC
The Hon Elizabeth Evatt AC
Bunya Productions
Sue Woodward
$2 - $499
Angela MacPherson
Margaret Marsh
Lee Ann Marsh
Linda Foreman
Michele Kearns
Vicki Matson-Green
Jessica Iuliano
Kristina Stern
Glenn Crouch
Anthony Herro
Lander & Rogers Lawyers
Les Irwig
David Higgs SC
Jacob Trindorfer
Marcus Freeman
Neil Brown QC
Uttam Mukherjee
Sally Morgan
Tony Sheffield
Robyn Ayres
Rick Davies
Jennifer Goh
Patrick Balzen
Crivici Romano
Isabelle Hazell
Nicholas Dainty
Alison Whittaker
Phillippa Abbott
Sharmila Shearing
Maureen Craig
David Robb
Carlene Colahan
Mary Jane McKerihan
Judy Grady
Chris Frommer
Niklas Mather
Anthony O'Grady
Sharon Ayres
Sophie Byrne
Lisa Villani
Megan Bryan
Alison Leslie
Mary Day
Virginia Gordon
Lilian Lee
Colleen Thorp
Jay Sanchez
Harriett England
Victoria Wills
Angela Prendergast
Hien Vy Cao
Gregory Burton SC
Eve Abbey
The Cultural Centre
Abigail Carreon
Juliet Summers
John Campbell
Naughti-Kool Productions
Celine Dubois
Gerald Sanyangore
The Hon Elizabeth Evatt AC
Peter Griffin
Brad Hosking
Doongal Aboriginal Art
Bali Padda
Jennifer Taranto
Tony Jones
Stephanie Ross
Sarah White
Carrie Follas
Kathryn Lovejoy
George Mailath
Angela Marr-Grogan
Miriam McDonald
White Clover Music
Carola Akindele-Obe
Natalie Brown
Live it Live Australia
John Walker
Gayle Reichelt
Peter Miller
Rhadi Bryant
Denis Stokes
Paula Stirland
Natalie Buckett
Alison Whittaker
Michelle Hanna
Erika Siabatto
Dr Ella Whateley
Elizabeth Daniels
Frontyard Films
Warrnambool Art Gallery
Ian Joel
Jesse Ellis
Anthony Rizzo
Warwick Keen
Angelika Waesch
Belinda Noel
Christopher Jervis
Sophie Aked
Ian Bland
David Norris-Nicholas
Umbrella Studio Contemporary Arts
Katherine Yeates
Paul Nicholls
Marissa Reynecke
Bhishminder Lutherr
Carol WebsterSC
Lorraine Binnington
Moira Deslandes
EPC Media Group
Debra Hood Art
Geoff Lloyd
Nicholas Coghlan
Mercy Heritage Centre
Plurality Press
Mary Egan
William Cottam
Judith Gibson
Julian Sexton SC
Andrew Probert
Juanita Pope
Jane Needham SC
Sarah Gilbert
Michelle Bernarde
Arcadia Scott
Kim O'Hare
Elizabeth Bull
Ben Woolgar
Brian O'Hare
Cathryn Prowse
James Nicolson
Darren Boyd
Blake Kempthorne
Shane Crew
Robyn Usher
Daniel Tweedale
Philip Smith
Suzanne Meli
Catherine Fargher
Amy Ward
Mark Dempsey SC
Kylie Nomchong
Hament Dhanji
Jeremy Gormly
Tully Moore
Clinton Smith
Michael Meek
Anna Mitchelmore
Merrow Le
Ian Bailey
Judge ColefaxSC
Kathy Cunico
Bruce McClintock
Lana Nguyen
Patricia Arden
Alexander Kohn
Sari Baird
Kate Blanch
Monica Taylor
Louise Thompsn
Jonathon Hunyor
Belynda Waugh
Therese McLean
Lisa Nankervis
Angela Pirera
Irene Lemon
Heartbeat Music
Andrew Kostopoulos
Michael McNamara
Annette Stayner
Dominic Toomey
Jacqui Shukowski
Effie Mitchell
Lee Elsdon
Alastair McEwin
David Thompson
Simon Cozens
Liz Constable
John Swainston
Moses Warusam
Dario Gardiman
Roberto Soglimbene
Matthew McLennan
Emili Rackemann
Rita Bratovich
Uttam Mukherjee
Mandy van den Elshout
Kathryn Lovejoy
Michael Mills
Xcapade Puzzle Rooms
Annette Chacos
Angelika Waesch
Christopher Jervis
Michael Mills
Mary Jane McKerihan
Podie Pie
Louise Daniels
Andrew Le
Holly Hancock
Patricia Adjei
Richard Connolly
Sally McCausland
Cali Prince
Kimberlee Weatherall
Joanna Syme
Renee Peters
Juliet Summers
Pam Bigelow
Cinnamon Pollard
Grant Finnegan
Alissar Gazal
Anika Waldin
Sallyanne Ryan
Laura Twomey
Philip van der Kolff
Kire Tosevski
Lilian Yeow
Doreen Charlwood Burge
Mina Maniska
Megan Williams