Thank You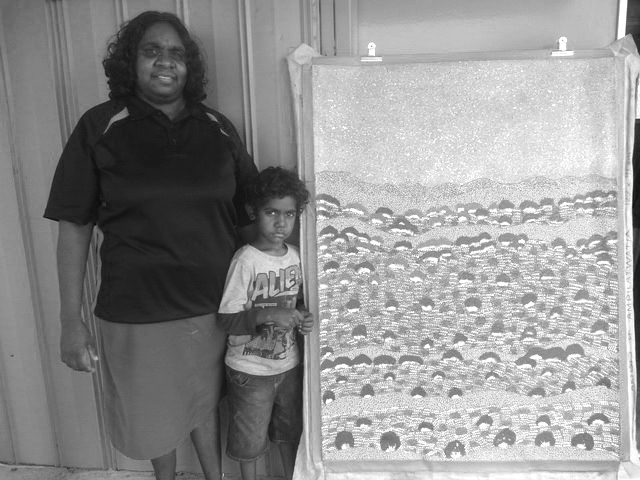 Arts Law helped the Artists of Ampilatwatja to recover money and paintings from a London gallery. Our donors help us continue this work for artists in Australia.
Thank you to our Guardian Angels, donors of $1000 or more, who help Australian artists fly
Donations of $5000 and above
Colin Biggers & Paisley Foundation
The Hon David Levine AO RFD QC
Donations of $1,000 - $4,999
Anthony McInerney SC
Daniel Creasey
Victoria Walker
The Hon Justice Margaret Beazley
The Hon George Palmer AM QC
Colin Kesteven
Charlotte Cooper
Susan Badyari
Ross Blancato
Greg Keith
Brett Stiff
David and Judith Minty
Adam Casselden SC
Electra Frost Accounting
Elizabeth Fox
The Hon Peter Heerey QC
Anthony Kelly Q.C.
Alison Leslie
Norma Leslie
Mark O'Brien
Shane Simpson AM
Jeremy Storer
Carol Webster SC
Thank you to all of our generous donors who make our work possible.
$500 - $999
Bunya Productions
Chaman Sidhu
Charlotte Stayner-Cooper
Andrew Antonas
Ieta D'Costa
Fouad Deiri
Graham Easton
Phillip Gibson
Amanda Jelicich-Kane
Andrew King
Kathryn Lonergan
Jim Senogles
Ian Wright
Brian O'Hare
Colleen Ball
Stephen Burley SC
David Cornwell
The Hon Elizabeth Evatt AC
Kim O'Hare
Daniel Roe
Sue Woodward
$2 - $499
Victor Borzillo
Will Creighton
Cathryn Prowse
Louise Walker
Jason Craig
Mark Dempsey SC
Ann Fordyce
Andrew Kostopoulos
Bruce McClintock
Leigh Appleyard
Robyn Ayres
Gillian Begg
Amy Brown
Helen and Colin Campbell
Louise Creasey
Paul Doran
Fergus Gilbert
Jane Goddard
Mary Hill
Cameron Johnson
Ping Li
Rob Lumsden
Sam Lythgo
Effie Mitchell
David Mulgrew
Monique Murray
Kay Rundle
Clinton Smith
Cathy Wildig
Kate Allan
Rachel Allan
Michelle Bernarde
Darren Boyd
Fiona David
Alexandra Ganis
Michelle Gibbings
Dean Jordan
Richard Kell
Blake Kempthorne
Suzanne Meli
Thomas Sands
Julian Sexton SC
Simpsons Solicitors
Steve Urwin
John Duckett
Jacqui ILIC
Alastair McEwin
John White
Briarna Stiff
Annette Chacos
Mary Egan
Jessica Iuliano
David Reid
Dallas Ball
Catherine Shrubsole
Sam Perera
Breanna Roe
Georgina Taylor
Patricia Arden
Judge Colefax SC
Kylie Nomchong
Kathy Cunico
Rebecca King
Michael McNamara
John Bowman
Michael Meek
Anna Mitchelmore
Jane Needham SC
Arcadia Scott
Katherine Wilkins
Mandy van den Elshout
Laura Twomey
Simon Schmidt
Alexander Baker
Simon Banfield
Nicole Bradley
Russell Buckley
Ben Caldwell
Bianca Calleja
Deb Camden
Jo Campbell
Victoria Campbell
Dara Cauton
Simon Chan
George Clooney
Neil & Helen Crew
Richard de Carvalho
Darren Dougan
Warwick Dowler
Mark D'Souza
Joanne Duncan
Lee Elsdon
Venus Ganis
Luke Grayson
Justice Peter Hamill
Matilda Harb
Claire Hayward
Robert Herbertson
Frank Hicks
Leigh Higgins
Dale Hunter
Jonathon Hunyor
Colin Jasper
Judy Jin - Grant Thornton
George Katrivesis
Rod and Vida Katzvil
Kate Keleher
Julien Klettenberg
Alexander Kohn
William Lacy
Carl Lee
Michael Lenicka
Claudine Leslie
Hugh Leslie
Brendan Maier
Marnie McConnell
Lyn McGeoch
Kevin & Nola McSweeney
Joshua Morris
Keenan Muir
Wendy, Elaine and Ki Murray
Lisa Nankervis
Kevin O'Hare
Rachel Pie
Andrew Probert
Shaun Pryor
Philip Putnam
Nathan Rhimes
Amanda Ryding
Peter Schmidt
David Smith
Annette Stayner
David Thompson
Robyn Usher
Nicola Walker
John Waters
Baron Zhang
Patricia Adjei
Lorraine Binnington
Elizabeth Bull
Amanda Cefai
Shane Crew
Hament Dhanji
Linda Foreman
Jeremy Gormly
Jack Graham
Liz Hussey
Indigenous Art Centre Alliance
Min Ko
Mary Jane McKerihan
Dominic Ong
Juanita Pope
Brett Schmidt
Jennifer Taranto
Nick Tobin
Dominic Toomey
Daniel Tweedale
David Whitting
Julia Paino
Matthew McLennan
Tom Stayner
Virginia Gordon
Dan Mackenzie
Dee Ardham
Nicole Tolikas
Simone Bova
Jacqui Shukowski
Gavin Creighton
Tim Seton
Veronica Adams
Libby Ayre
Rose Ayres
Scott Ayres
Sari Baird
Mel Barry
Alice Blackburn
Kate Blanch
Columbine Bloodworth
Peter Callaghan
Patrick Cavanagh
Emily Chalk
Madeleine Copley
Simon Cozens
Samuel Day
Joy Dillon
Tim Dunn
Lynne Eastaway
Rebecca Edwards
Ben Ernest
Beth Geddes
Janet Grey
Vanessa Gulesserian
Morgan Hansen
Jeannie Heynatz
Rebecca Hosking
Julia Ilic
Leeanne Jaehne
Debbie Kaminskas
Laura Keily
Olivia Lanchester
Siu May Langgons
Merrow Le
Jason Liu
Sima Loncar
Deirdre Lyons
Emily Lyons
Sam Lyons
Jo Manouk
Maureen McDonald
Jemma McLaughlin
Landis Michaels
Laini Miller
Virginia Milson
Peter Moran
Nikki Mourginos
Barbara and Marc Nell
James Nicolson
Jane O'Neill
Elaine Patterson
Daniella Pratt
Lindsay Prehn
E Reiher
Rhiannon Roe
Sara Ser
Shelby and Sharpie Sharp
Jaye Smale
Rod Smith
Rebecca Spowart
Kath Stiff
Monica Taylor
Fiona Tonkin
Stuart Unwin
Jason Westerbrink
Simon Williams
Phil Woods
Julie Wright
Rebecca Young
Rita Bratovich
Sally Clarke
Sarah Crennan
Elizabeth Daniels
Louise Daniels
Judy Grady
James Harris
Elaine Hopper
Warwick Keen
Andrew Le
Angela Macpherson
Lee Ann Marsh
Margaret Marsh
Vicki Matson-Green
Sally McCausland
Uttam Mukherjee
Peter Nelson
Mary-Anne Shonoda
John Swainston
Louise Thompsn
Philip van der Kolff
Harriette Watson
Belynda Waugh
Ben Woolgar
Kym Brautigam
Christy Englezakis
Lana Nguyen
Doreen Burge
Thomas McEwan
John Meers
Tegan Stait
Juliet Summers
Elizabeth Palestroque
Narah Benn
Catherine Campbell
David and Helen Crew
Natasha Devos
Bree Graham
Helen Gregory
Margaret Harvison
Chris Langton
Annabel McGagh
Sara Moberget
Bryn Plate
Shannon Rua
Atina Todeski
Sophie Byrne
Joey McKenzie
Belinda Noel
Bronwen Peberdy
Stacey Quinn
Danielle Aalders
Carlita Bloecker
Robert De Sousa-Reay
Clinton Hanney
Jess Heimburger
Chris Jones
Rhiannon M
Katie Nankervis
Shelley Nowlan
Alexandra O'Brien
Maria O'Connell
Jim Pardy
Luke Sabbadini
Brecht Snijders
Lauren Vaughan
Kate Wilkins
Ian Bailey
Annie Carter
Lucy Chen
Adam Conti
William Cottam
Sarah Scales
Lena Weston
Jack Hamilton
Liz Constable
Carolyn Cunningham
Stephanie Dower
Angela Ferrarin
Fay Foster-Swan
Sarah Gilbert
Tanya Hanley
Rhylee Hardiman
Maddison Hunter
Margaret Irwin
Lisa James
Jescinta Kaiser
Therese McLean
Elise Mclennan
Emily McRae
Audra Murray
Mary-Louise Schwind
Anne-Marie Sears
Philip Smith
Shelley Voigt
Bach & Company Chartered Accountants
Binung Boorigan Pty Ltd
Ian Bland
Cameron Brown
Finn Bryson
Bulbul Trading
Moira Deslandes
Jesse Ellis
EPC Media Group
Catherine Fargher
Frontyard Films
Bradley Fuller
Alissar Gazal
Judith Gibson
Christopher Jervis
Kaiela Arts Shepparton
Kathryn Lovejoy
Ben Martin
Sue Maxwell
Carole McCormick
Mercy Heritage Centre
Michael Mills
Tully Moore
Paul Nicholls
David Norris-Nicholas
Jasmine Nowlan
Lisa Perkins
Cinnamon Pollard
Cali Prince
Marissa Reynecke
Sarah Ridout
Anthony Rizzo
Erika Siabatto
Denis Stokes
Joanna Syme
Tapatjatjaka Art and Craft
Umbrella Studio Contemporary Arts
Angelika Waesch
Anika Waldin
Warrnambool Art Gallery
Moses Warusam
Kimberlee Weatherall
Ella Whateley
White Clover Music
Liza Ziegelaar
Melanie Simmonds
Guy van Dugteren
Amy Ward
Mina Maniska
Kate McCormack
Julie Anne Meagher
Angela Pirera
Lauren Thompson
Sophie Aked
Angela Chen
Richard Connolly
Debra Hood Art
Dario Gardiman
Ian Joel
Play Principle Pty Ltd
Podie Pie
Stephanie Ross
Sallyanne Ryan
Tony Sheffield
Yvonne Stayner
Xcapade Puzzle Rooms P/L
Katherine Yeates
Nicholas Coghlan
Grant Finnegan
Irene Lemon
Geoff Lloyd
Sebastian Marcu
Renee Peters
Dillon Simmons
Lilian Yeow
Emili Rackemann
Roberto Soglimbene
Bhishminder Lutherr
Ariane Campbell
Cash
Michelle Hanna
Heartbeat Music
Jason James
Plurality Press
Peter Puketapu
Sharron Tancred