Artists in the Black in the Kimberley
Last week, Arts Law Senior Solicitor, Roxanne Lorenz, travelled to the Kimberley region to meet with artists and provide legal advice. The first day of the trip was spent at Nagula Jarndu, the Aboriginal Women's Art and Resource Centre in Broome. Nagula Jarndu is a must-visit for anyone headed to Broome. They have an impressive full-time workshop where artists work producing textiles and handicrafts and a shopfront where visitors can take something special home with them. They also have an online shop with an extensive range of beautiful clothing, textiles, accessories and jewellery available for sale. Roxanne met with the Manager, Eunice Yu and a number of the art centre's employees, directors and artists and provided a presentation on Arts Law's services, copyright, Indigenous Cultural Intellectual Property (ICIP) and assisted with providing legal advice and drafting wills.
Up next was a two and a half hour drive up North to the Dampier Peninsular area for the Inaugural Kimberley Aboriginal Women's Culture Camp held at Gumbanan Wilderness Retreat, owned and operated by the Davey family for centuries. The traditional owners of the land are the Bardi Jawi People, 'the Saltwater People' who are famously known for their unique cultural dancing. The region has a rich heritage of Aboriginal culture and home of the Beagle Bay, Bobieding, Djarindjin, Ardyaloon (One Arm Point) and Ngardalargin communities.
The Women's Camp was an incredible initiative organised by the Kimberley Region's Peak Indigenous Law and Culture Centre 'KALACC'. It was the first time in recent history that an opportunity was facilitated for women in the region to gather, meet and share stories and culture. The schedule was filled with panel discussions, forums, strategic planning and workshops. Arts Law solicitor, Roxanne, presented on a panel discussion on 'Cultural Knowledge and Rights' along with Pat Torres (Mayi Harvests), Yiriman Women from Bush Enterprises, Eunice Yu (Nagula Jarndu) and Rukaji Designs – Bush Dye. The panelists discussed some of the incredible innovations in the area of bush medicine and remedies, enterprising art and culture and protecting intellectual property.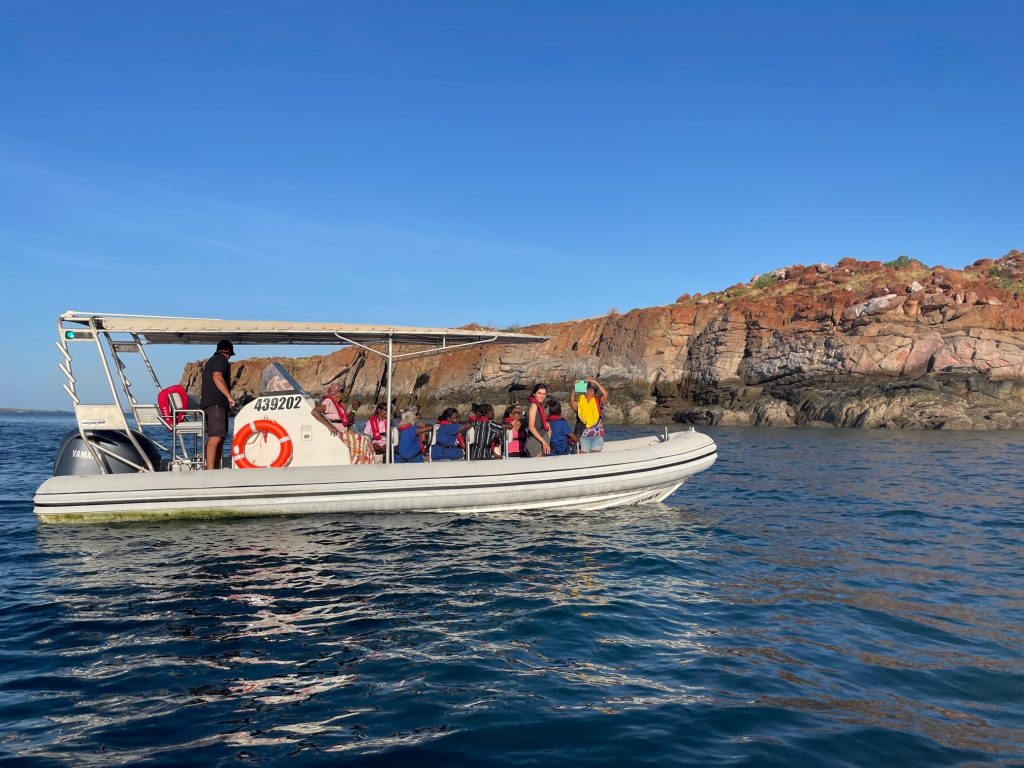 Another highlight of the Women's Camp was the opportunity to participate in a cultural tour of the region by water, departing from the beautiful Cygnet Bay Pearl Farm and exploring the spectacular landmarks of the Dampier Peninsular including the waterfall reef, the flooded fault line where the ancient Kimberley Rock begins and the Buccaneer Archipelago. It was wonderful to see that the Bardi (land) and Jawi (island) people of the Dampier Peninsular retain an ongoing connection with the land and sea and the tours are respectful of the traditional owners and protection of the heritage and culture.