Abdul Abdullah's work labelled "offensive" and removed from exhibition – how does the artist respond?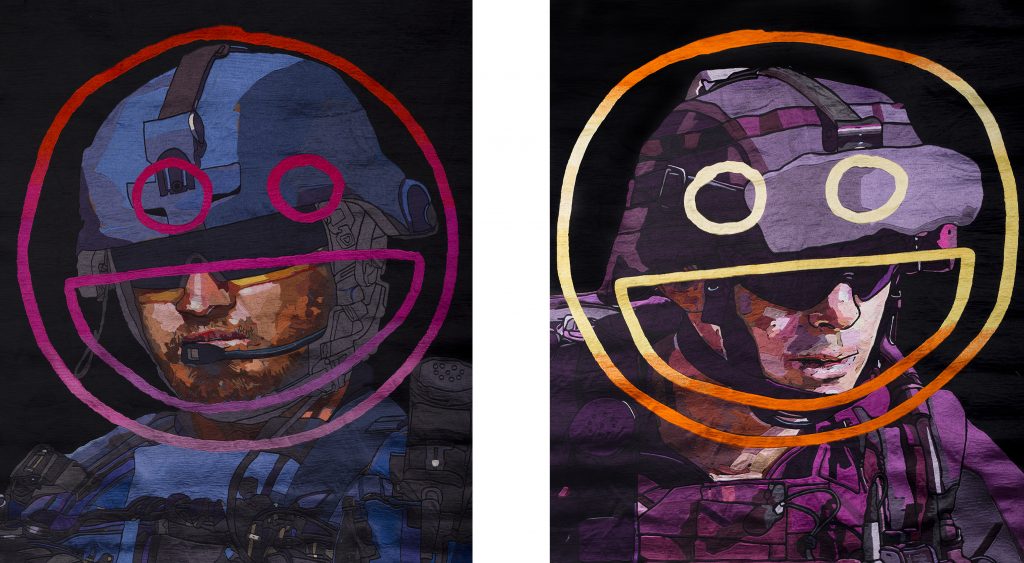 Abdul Abdullah's work explores the experience of "the other" in Australian society and often engages empathetically with marginalised groups and minority communities. This is why it came as such a shock when his work came under attack, accused of disrespecting and abusing Australian soldiers and the armed service.
Two artworks from an existing series of Abdullah's were included in the touring exhibition Violent Salt, on view at Artspace Mackay in Queensland. Each work depicts an Australian soldier with a large smiling emoticon, a recurring motif in the artist's work, embroidered across it. The exhibition "reflects on the experiences of the marginalised, the underrepresented and the silenced" and Abdullah's works were selected for expressing the emotional and psychological trauma of modern warfare that is often experienced but seldom discussed.
Artspace Mackay is a regional art gallery operated by the Mackay Regional Council. Violent Salt opened on 30 August 2019 and had received an audience of roughly 4,500 when the Mackay Council councillors toured the exhibition last month and councillor Martin Bella, took offence at Abdullah's work. These works are part of a larger series of portraits created in 2017 and have been exhibited twice in New Zealand. This was the first time any complaint had been made that the works were offensive.
Councillor Bella turned to the federal member, George Christensen, MP, who also took objection and he and Bella lobbied for removal of the artworks including posts on their Facebook pages complaining about the works and stating that the artworks were an attack on serving soldiers and threatened their mental health. The Mackay local newspaper, the Daily Mercury (behind a paywall), reported the artworks were deemed "insulting" and "highly offensive" by the Mackay RSL. A Change.Org petition was started asking for removal of the artworks.
As a result of this political pressure the Mayor of the Mackay Regional Council, Greg Williams, withdrew his support for the artworks and agreed that they be removed from the exhibition. The exhibition is planned to tour Australia through to June 2021. Another of the galleries on the tour, the Toowoomba Regional Art Gallery, has refused to have the two artworks hung as part of the exhibition, but the remaining galleries have no objections.
Abdul Abdullah contacted Arts Law for legal advice because of his concerns about censorship, damage to his reputation and the false impression that was being given about the meaning of his works which was far from his intention when creating them. Arts Law advised him on the various legal issues that arise in respect of the censorship of his work and the statements made by the politicians about its meaning. Art interpretation and offensiveness are of course subjective, and the message being presented to the veterans and soldiers is one that does not accord with the artist's intention or the artworks themselves. Laws regarding censorship in Australia are limited. However when politicians, or indeed anyone with a public profile, are able to lobby for and succeed in removal of an artwork on the basis that it offends a limited number of people, particularly in circumstances where the message they are given about the artist's intentions can be misleading or even incorrect, then the artist is forced into a difficult situation – whether to just let it all blow over, take legal action, or something in between.
We hope that Abdullah will be able to rectify the misleading information given to the veterans and soldiers regarding the meaning behind the artworks so that they can be made aware that there was no disrespect and see the artworks for themselves and form their own views.
As Abdullah writes in the Violent Salt catalogue:
"I hope that Australians can recognise our shared societal and individual moral obligations to those who come after us to leave this world a little better off than how we found it".
This is just the latest example of people making efforts to censor artistic expression in Australia. Over the years there have been some notable examples of censorship of artistic works such as the removal of Bill Hensen's photographs of teenagers from the walls of the Roslyn Oxley art gallery in 2008 and Juan Davila's controversial painting "Stupid as a Painter" in 1982. Earlier this year Juan Davila was again in the news for his controversial painting of Mary, Mother of Jesus. In these cases the art gallery supported the artists' works and rights of artistic expression.
Listen to Abdul Abdullah tell his story on ABC radio (44min mark)
Arts Law advocates for freedom of expression in Australia. If you have concerns about your artistic practice that raise questions of defamation or censorship or freedom of expression, Arts Law has a number of Information Sheets on our website are a good place to start.
These cover defamation, censorship and freedom of expression:
https://www.artslaw.com.au/information-sheet/classification-and-censorship/
https://www.artslaw.com.au/information-sheet/limitations-on-freedom-of-expression/
https://www.artslaw.com.au/information-sheet/defamation-law/.
You can also contact Arts Law for free or low-cost legal advice.