Licensing work by Jennifer Wurrkidj of Bábbarra Women's Centre for SBS Tour De France coverage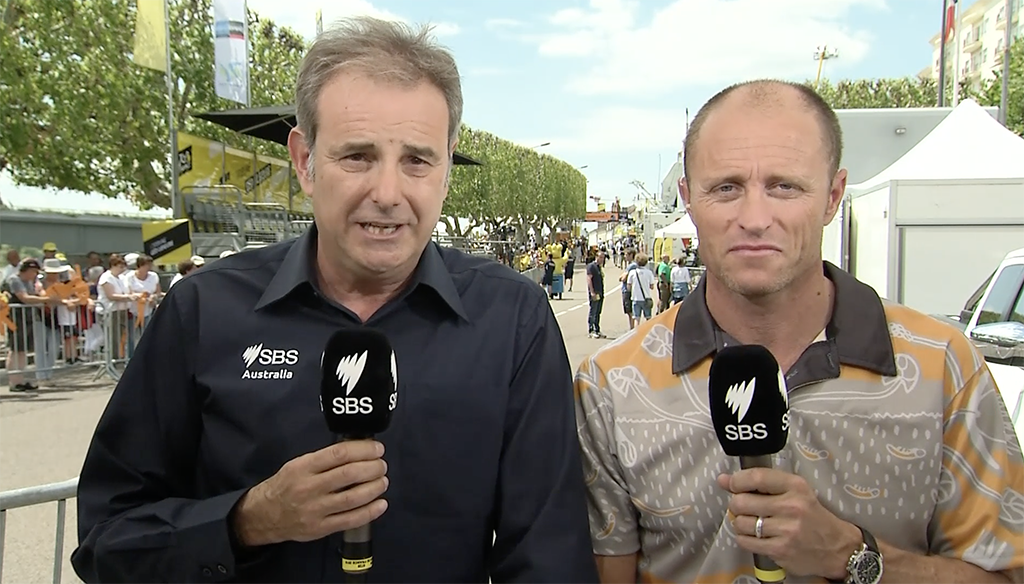 In May 2019, Arts Law visited Bábbarra Women's Centre, an Art Centre that operates within the Art and Culture program of the Bawinanga Aboriginal Corporation, as part of an outreach visit to Maningrida, Arnhem Land. Art Centre Manager Ingrid Johanson sought advice for Bábbarra and for one of their artists, Jennifer Wurrkidj, for the licensing of one of Jennifer's artworks by SBS.
A highly regarded textile artist, printmaker, bark painter and sculptor with works held in the Art Gallery of South Australia's collection, Jennifer has worked as a textile artist at Bábbarra since 2007. Her work is characterised by bold botanical motifs and a keen attention to surface, texture and the layering of line and colour in her prints and designs.
Bábbarra received an offer from SBS who wanted to license one of Jennifer's designs on jerseys for SBS staff and crew reporting on the 2019 Tour de France. They were given a very short window to respond, and Jennifer and Ingrid were anxious not to lose the opportunity. But understanding the importance of protecting Jennifer's rights and interests, they wanted to ensure that the artist and the Art Centre were appropriately acknowledged, and to ensure that the licensing fee was appropriate for the brief.
On the outreach visit, Arts Law's CEO Robyn Ayres drafted a short licensing agreement that Jennifer and Ingrid could present to SBS. She advised that they ask for a higher licensing fee than SBS originally offered, and included terms in the agreement that would require SBS to acknowledge Jennifer and Bábbarra when they reproduced the image.
Ingrid later reported to Arts Law that SBS were highly receptive to the agreement that Arts Law drafted and were happy to use it to govern the licensing arrangement. They agreed to the higher licensing fee and to acknowledge the artist and Bábbarra. The jerseys were made and distributed to the team where they were worn proudly by staff and crew throughout SBS's coverage. SBS has provided the artist and the art centre a jersey each, which now hangs proudly in the Bábbarra Women's Centre for all to see. Their experience shows that an artist should not accept an agreement unless they are happy with its terms, and that it is important to try and negotiate fairer terms that reflect all the parties' rights and interests.
You can seek advice from Arts Law by lodging a query here