Mondo Rondo Jewellery licenses Indigenous artworks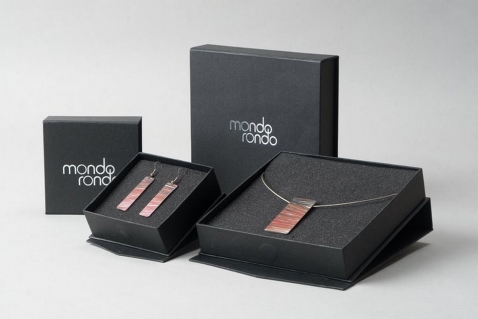 Mondo Rondo Jewellery designs and produces Australian jewellery for both the local and international market.
Mondo Rondo's Imprint Indigenous Collections of jewellery features full colour details from the amazing works of Central Desert, Utopia artists Emily Kame Kngwarreye, Minnie Pwerle, Gloria Petyarre and Barbara Weir.
Mondo Rondo pride themselves on their awareness of the moral and legal importance of properly acknowledging the artists and their works. They knew what was the right thing to do, but didn't know the right process of going about doing it.
Mondo Rondo approached Viscopy, as the organisation that is set up to represent the artists' rights and manage copyright licensing. Viscopy assisted Mondo Rondo realise their ideas and vision for the Imprint Indigenous Collections.
Viscopy negotiated a licensing agreement in consultation with the artists and their representative to ensure that that these important Indigenous artists were appropriately remunerated for the use of their works on this range of designer jewellery.
In endorsing Viscopy's services, Mondo Rondo Jewellery designer Carolyn Daniell said;
"Viscopy were fabulous – they were enthusiastic with the concept and the potential and could see the quality of the reproduction and packaging of the jewellery.

Viscopy provided not only the professional structure to enable licensing but also advice and introductions to the correct people for the process to happen. They really got behind the project and we are very grateful for their support."
(Case study and image kindly provided by Viscopy).
Further resources you might find useful:
Artists in the Black – Arts Law's Indigenous service