Reviewing the T&Cs for MAGNT – Telstra NATSIAA 2023
"It is a wonderful result to be able to go out with guidelines that look after artists and that we can all feel proud of."

Louise Partos, Assistant Director, Content and Innovation, Museum and Art Gallery Northern Territory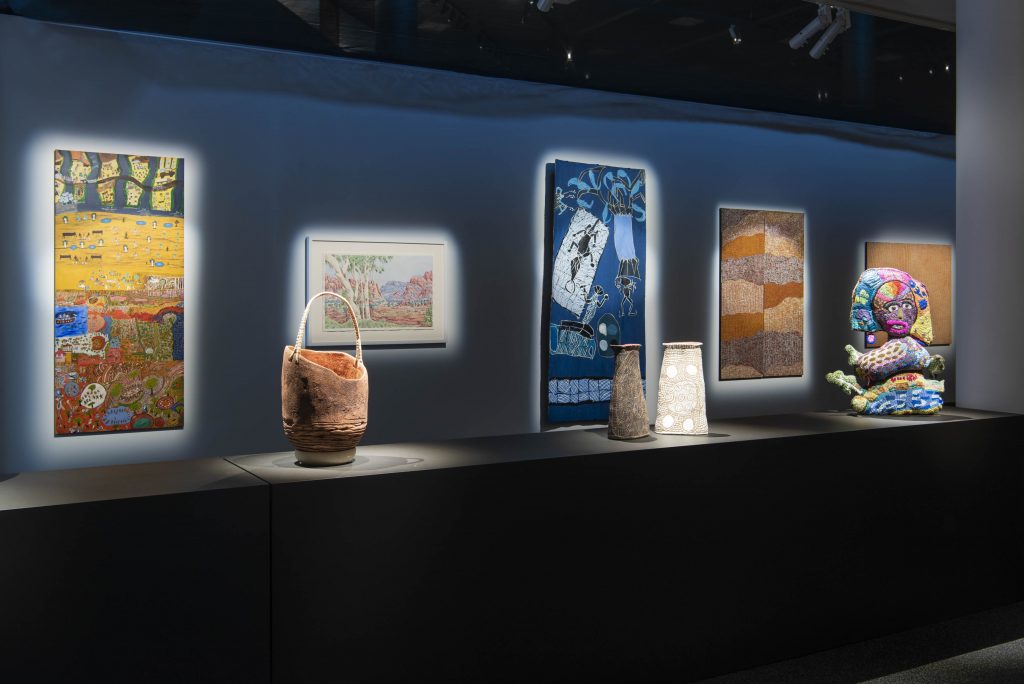 The Museum and Art Gallery Northern Territory (MAGNT) has recently launched the Telstra National Aboriginal and Torres Strait Islander Art Awards (NATSIAA) 2023. MAGNT asked Arts Law to help make sure the 2023 NATSIAA Guidelines for Entry (Guidelines) were fair to artists and protected their rights.
As stated on its website: "The Telstra National Aboriginal and Torres Strait Islander Art Awards (NATSIAA) exhibition is Australia's richest art awards. This exhibition captures the attention of the nation, with an inspiring breadth of work from emerging and established artists."
We are delighted to share that the resulting Guidelines are very artist friendly. Arts Law has rated the Ts & Cs in the Guidelines a perfect 5 out of 5 stars. In line with the best practice advice from Arts Law, the Guidelines:
Clearly state that entrants will retain copyright in their work.
Only require reasonable copyright licence terms from Finalists whose work appears in the exhibition.
Acknowledge and respect the moral rights of artists as well as the Indigenous Cultural and Intellectual Property (ICIP) in any of the works submitted.
The nitty gritty: Arts Law's advice
As part of our Best Practice advice service Arts Law consulted with MAGNT on the terms of the Guidelines and shared best practice advice on what would be fair, transparent and respectful terms for Aboriginal and Torres Strait Islander artists. Our Best Practice advice aims to strike a fair balance between the needs of the competition organisers and those of the artists. We are delighted that our suggestions were broadly adopted in the final version of the Guidelines.
Importantly, MAGNT agreed with Arts Law's recommendation that any terms which could impact an artist's rights in relation to an artwork should be made clear upfront in the Guidelines, not just in Artist's Agreement which is signed by the Finalists after selection. This is important for a fully informed decision to be made by artists about whether entry into the Telstra NATSIAA is in their best interests.
In relation to the Artist's Agreement, it is always best to get legal advice before you sign any agreement. Arts Law can help here.
Dealing fairly with artists' copyright
The Guidelines now represent a fantastic example of best practice copyright terms. Specifically:
The Guidelines clearly state that all entrants will retain copyright in their artwork.
Telstra NATSIAA only gets the permissions it needs on a non-exclusive and non-commercial basis and only from Finalists. Subject to a media embargo period before the awards are announced, this means that Finalists can licence their artworks to others.
The permission is limited to a term of 2 years for limited Telstra NATSIAA-related purposes, except for a perpetual licence for archival purposes which is reasonable for that purpose. This means that Finalists' artworks can be reproduced for use in relation to the Telstra-NATSIAA for a reasonable time only and can't be commercialised without consent.
For more information, read Arts Law's Information Sheets on and .
Respecting moral rights
Arts Law also advised MAGNT about . Following Arts Law's recommendations, the Guidelines clearly state that artists will be credited and no changes will made to copies of the artwork. The only exceptions are for reproducing less than the full work where space is limited and otherwise only with the artist's prior written consent. When MAGNT supplies the images to third parties involved in promotion, use of the image must be accompanied by credit lines.
Acknowledging community and Indigenous Cultural Intellectual Property (ICIP)
With Arts Law's help, the Guidelines now demonstrate respect for ICIP. ICIP is a broad term that covers all of the rights that Indigenous people have and want to have, to protect their traditional arts and culture (including writing, music, performances, paintings, languages, sacred sites, stories passed down orally, and other records of heritage).
An appropriate notice of custodial interest acknowledging any language group or community involved is to be agreed with artists at the time of selection as a Finalist and signing an Artist Agreement. Finalists will also be supported by MAGNT in any request to limit photography within the exhibition, with MAGNT adding a label to that effect to such artworks. This will assist any artist who may have concerns with such photography from an ICIP perspective.
Other issues to consider
In relation to other matters covered in the Guidelines, we were impressed by the fact that there is no entry fee for submission and Award recipient's travel to and accommodation in Darwin for the Award Ceremony is reimbursed up to $2,000, making the competition more accessible to all Aboriginal and Torres Strait Islander artists.
It is also great that MAGNT provides insurance for the artworks from the date they arrive until the date they leave.
A great outcome for artists!
Overall, Arts Law was very heartened by MAGNT's willingness to consider our recommendations, with the end result being a positive impact on Aboriginal and Torres Strait Islander artists and their rights. Congratulations to MAGNT and the Telstra NATSIAA!
Remember if you are an artist and thinking of entering a prize or competition Arts Law can help you understand what your rights are. Or if you run a competition organiser Arts Law can review the terms and conditions to ensure they are fair.
About the Telstra NATSIAA
The Telstra NATSIAA is a non-acquisitive award, however submitted artworks must be made available for purchase, with MAGNT obtaining the first right to acquire the work at the price listed in the submission. The Telstra NATSIAA is free to enter and is open to all artists who identify as an Aboriginal and/or Torres Strait Islander. The submitted artwork must be the property of the artist and must be original work completed within the last twelve months prior to the close of the entry date, 17 March 2023.
A total of $190,000 in prize money is awarded each year, including the overall Telstra Arts Award of $100,000 to the artwork considered by the judges to be the most outstanding artwork in the exhibition. Six other awards of $15,000 are chosen by the judges being, the Telstra General Painting Award, Telstra Bark Painting Award, Telstra Work on Paper Award, Wandjuk Marika Memorial 3D Award (sponsored by Telstra), Telstra Multimedia Award and Telstra Emerging Artist Award. There is also the Telstra People's Choice Award, a non-monetary award chosen by popular vote.
The deadline for entries is 17 March 2023, Finalists to be included in the exhibition will be notified by 11 April 2023 and Award recipients will be notified under embargo by 22 July 2023, with the awards ceremony taking place on 11 August 2023.
---
Full image credit: Artwork details (L-R):
Jack Green, Nancy McDinny, Stewart Hoosan, Injustice – The History of the Gulf Country 2021. Courtesy of the artist and Waralungku Arts.
Philomena Yeatman, Woven Knowledge 2021. Courtesy of the artist and Yarrabah Arts & Cultural Precinct.
Hubert Pareroultja, Ghost Gums in James Range 2022. Courtesy of the artist and Iltja Ntjarra Many Hands Art Centre.
Dhambit Munuŋgurr, My Father Painting Balana 2021. Courtesy of the artist and Buku-Larrŋgay Mulka.
Tjunkaya Tapaya OAM, Kungkarangkalpa / Seven Sisters 2022. Courtesy of the artist and Ernabella Arts.
Michelle Woody Minnapinni, Winga Makatinga kapi Murrakupuni (Saltwater, freshwater on Country) 2022. Courtesy of the artist and Jilamara Arts and Crafts.
Louise Robertson, A Strong Woman of the Country 2022. Courtesy of the artist and Yarrenyty Arltere Artists.
Yukultji Napangati, Untitled 2021. Courtesy of the artist and Papunya Tula Artists Pty Ltd.